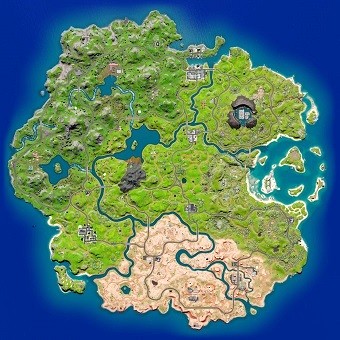 Set up since December 05 with the arrival of Chapter 3, the new Fortnite map welcomed a bunch of new features: Spider-man gloves to move around in a whole new way, a system to earn points for experience outside the battle royale but also a brand new map, which oscillates between desert, meadow … and areas covered with snow and fir trees! Snow that should melt from January 07, date of the new update, according to content creator Hypex. And besides the snow that has disappeared, a big major change can be noticed on this new map as evidenced by the gameplay video shared on Twitter:
The snow began to melt, causing new points of interest to appear on the map. Among them, we note the appearance of camps linked to The Imagined Order. Professor Slone and his clique are likely to return to retake the island, now under the control of the Seven.
And this gameplay preview is consistent with the words of another Fortnite content creator named iFireMonkey. At the beginning of December, he shared the Weekly Challenges that had yet to appear with the launch of Season 1 of Chapter 3:
Things mentioned in Chapter 3 – Season 1 weekly challenges that aren't out yet:

– Tilted Towers
– IO Force Enemies
– Butter Berries
– Butter Cake (Animal teased in season trailer)
– Butter Cake's Blowhole
– Flare Gun
– Grenade Launcher
– Pizza Slices
– Tornados
– Drill Scanner pic.twitter.com/VwMYo13e4h

– iFireMonkey (@iFireMonkey) December 7, 2023
Aforementioned, we see the return of the Tilted Towers area: region of Chapter 1 of Fortnite, it is one of the most popular areas for players. We also note the presence of a weekly challenge entitled "IO Force Enemies"as well as another named"Drill Scanner", which leaves more than to consider their return. Of course, we will take a pinch of salt and tongs and we will wait for an official announcement to make sure of all that.