Whether you go to Amazon or elsewhere, you are going to come across a host of mechanical arms. Among all the manufacturers of supports for dual screens, there is one that seems to be unanimous: Huano. Over the years, the brand has built a solid reputation for its quality products.
And among all that Huano can offer, there is one model in particular that immediately catches the eye when you delve a little through the characteristics. This model is the one we want to talk to you about today. You can find it a little cheaper, but in our opinion, you will not qualify for such quality.
Right now, there is a slight promo on Huano's dual screen support: € 72.99 instead of € 79.99. There are no small profits as they say! We will detail the characteristics of the machine a little below. You will see: the quality is there.
If, like many people, you give credit to customer reviews, then this model is Amazon's most popular by far. As of this writing, there are almost 5,000 reviews and the average rating is close to 5 out of 5 stars.
Having 2 screens is becoming more and more the norm. And we can easily understand why: when we taste the comfort that it brings, it becomes almost impossible to do without. With two screens, you can work with twice as many windows in front of you, or just play while watching a live Twitch or consulting a walkthrough ….
In short, no need to crate it, the dual screen is a very pleasant thing. The price to pay for this comfort, beyond the price of the screens themselves, is however quite heavy: if you don't have a very large desk, almost all the space will be eaten up by your monitors. This support is there to solve this problem and increase your comfort even further. We explain ourselves.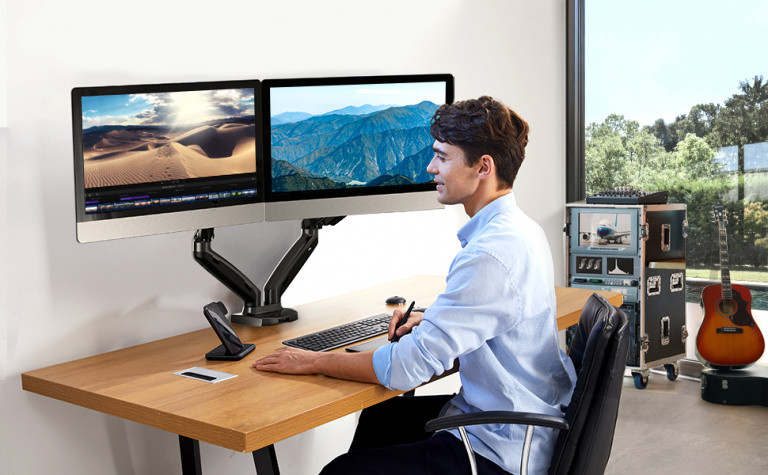 With its articulated arms and its different orientations, you will be able to to best adjust the position of the screens in relation to yours. And yes, most people don't realize how important it is to have your eyes aligned with the center of a screen. And then your neck and back will say thank you!
You can even switch a screen to vertical (ideal for displaying a cat for example) without any effort. The placement possibilities of your gear become almost endless, and you are no longer limited by two feet that only allow up and down movement.
This mount can fit many screens, but it is necessary to stick to the criteria to know if it is suitable for your monitors.
First of all, you must check that your screens are equipped with fasteners of the type VESA. These are located on the back of your screen. Often, they are hidden by a plate or the foot of your screen. If in doubt, you can get information on the internet by entering the exact designation of your screen to find out if it has one or not. Don't panic, this is an extremely common standard.
VESA interfaces come in several sizes. This support allows you to fix screens that have VESA mounts in 75mm x 75mm and 100mm x 100mm. In the worst case, you can use an adaptive plate which will allow you to fix your screen (like these).
Then, it is to know that each arm can support a screen measuring between 13 and 27 inches diagonally and up to 6.5kg. Again, rest assured, these sizes are the most standard and you have room for weight.
Finally, this arm can be attached using a clamp system to your desk or via a hole. The thickness of your desk top must be understood between 2 and 9.5cm to be compatible.