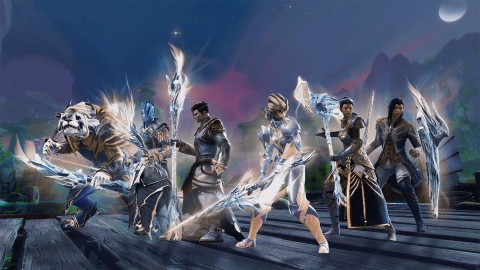 Those nostalgic for the early years of Guild Wars can rejoice. End of Dragons, the next expansion for Guild Wars 2 releasing in February 2023, takes place in Cantha. This region, well known to players in the series, has changed a lot since it was cut off from the rest of the world a hundred years ago. The Ministry of Purity, a fascist organization that once ruled these lands, has fallen and new forces populate the land. End of Dragons promises to reunite with familiar protagonists, which should appeal to die-hard fans.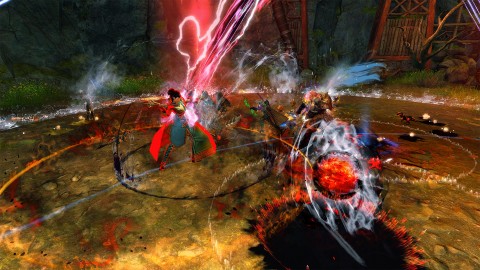 The expansion adds a new Elite specialization per profession. These specializations unlock a new weapon, which as everyone knows in Guild Wars 2 changes combat skills. New legendary weapons are also in the game, always very powerful and with multiple effects. The ones we had equipped had a "finish move" causing crystals to spawn on dead opponents. The appearance of these weapons can be changed among various variants to better match the classes without costing a transmutation charge. It is true that a Necromancer may not want to equip himself with a greatsword in the colors of the rainbow.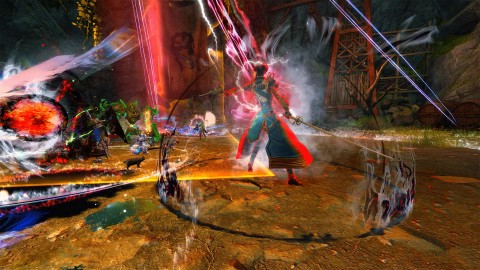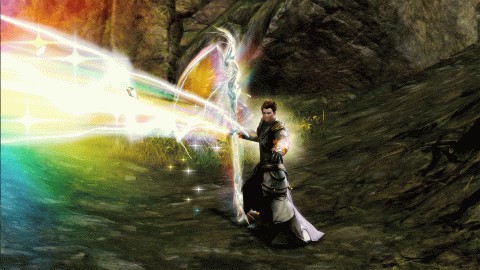 In the new Guild Hall specially set up for the occasion, we were able to discover some fun decorations. ArenaNet developers have obviously recalled that many elements are customizable, and that some players have in the past created mazes, platform games or even race tracks in these dedicated spaces. Since fishing is new to this expansion, ArenaNet has made sure to have large bodies of water inside the Hall so players can indulge in their quest for big fish in peace.. It should be noted that a boat that can accommodate several adventurers is summonable, and that it is therefore possible to travel the lakes with several people without having to dive into the waters. Once equipped with bait, just cast the line and cross your fingers to find a rare fish (the probability rate increases when the activity is practiced as a team). While it is possible to fish everywhere, there are particular spots in different parts of the map where rare fish prowl more frequently. It goes without saying that the scales of these critters are used as ingredients for making legendary weapons, just to motivate the refractory.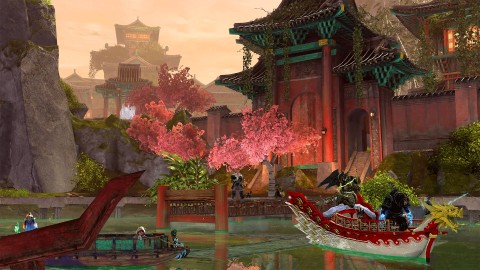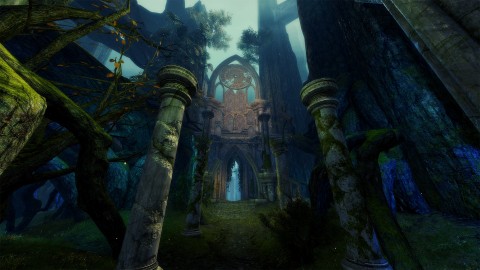 Once the boats were stowed, we left for the forest of Echowald where two gangs clash because of ideological differences: the Jade brotherhood and the Speakers. Each gang has in its ranks humans but also monstrous creatures that will have to be fought. The opportunity for us to participate in an event on the back of siege turtles, which as their name suggests are gigantic reptiles capable of doing great damage to the enemy. They introduce a concept of cooperation since two players can climb on their shell: the first pilot while the second shoots. After destroying a few hidden generators here and there, we plunged into a dungeon full of turrets and robots. As is tradition in Guild Wars, each gigantic door opened spawned swarms of enemies. Classic, certainly, but which always works with several people. Difficult to gauge the difficulty under the conditions of this preview: the developers had prepared superarmed heroes for us and had activated an option making us invincible.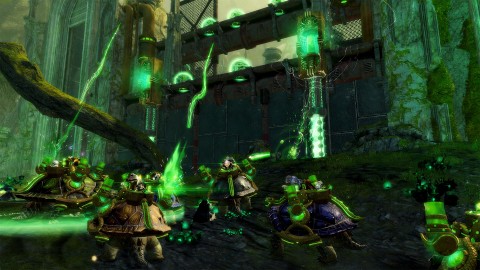 Once the boss was defeated, we formed two squads of ten heroes with the aim of participating in a Strike mission, a kind of Raid more accessible than the average limited to ten participants, centered on boss fights. End of Dragons has four of them and adds a challenge mode to increase their difficulty if needed. The content of this mission cannot yet be revealed at the time of this writing, but the confrontation lived up to its promises with a rather vicious boss multiplying various attacks, which required good coordination with the other members of the squad. .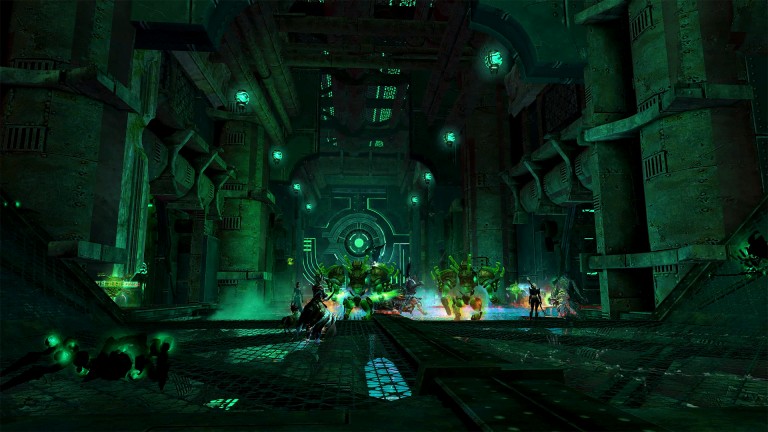 This appointment with Guild Wars 2 reminded us of all the qualities of a series which, like others before it, continues to bring updates to convince players to stay on its servers. In any case, there are enough novelties on paper to convince veterans to spend a little more time in Tyria. Guild Wars 2 End of Dragons will be released in February 2023 on PC.