For the very first time, the PC is hosting an episode of God of War and not just any: the latest, but also the highest rated at JV. The game of Santa Monica is indeed part of the very closed caste of "20/20". A masterpiece, therefore, that we can finally discover elsewhere than on a Sony console.
Before giving our thoughts on this PC version of God of War, let's take a look at Sony's official recommendations. As you can see, the title seems quite flexible and can run on an aging setup as long as you cut back on definition and / or level of graphic detail.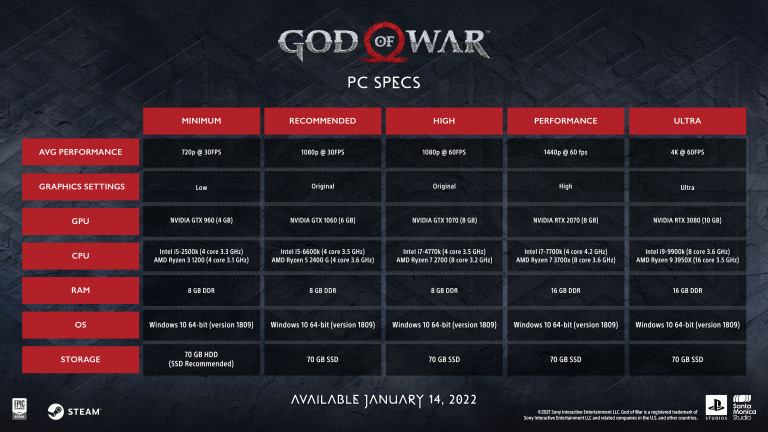 Configuration for 720p / 30FPS
Configuration for 1080p 30 FPS
Configuration for 1080p / 60 FPS
Configuration for 1440p / 60 FPS
Configuration for Ultra HD / 60 FPS
This PC port of the epic Kratos and Atreus is, let's say it, an example to follow. First of all, two good news: the title easily supports different screen formats, including the increasingly popular 21: 9. If you are equipped, we must admit that the rendering in ultrawide is very pleasant, offering a better field of vision, sublimating the backgrounds of the game and giving a real advantage in combat. If God of War is already superb in 16: 9, he is magnificent in 21: 9.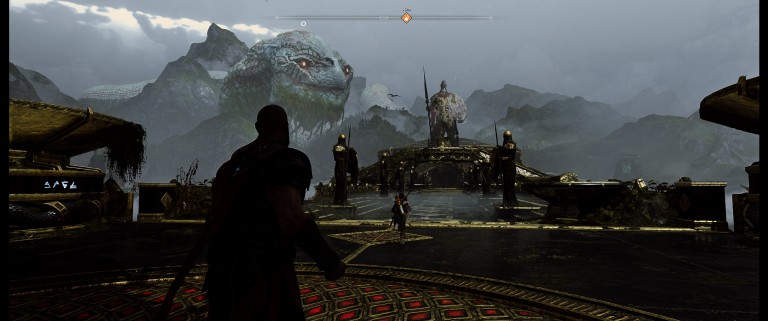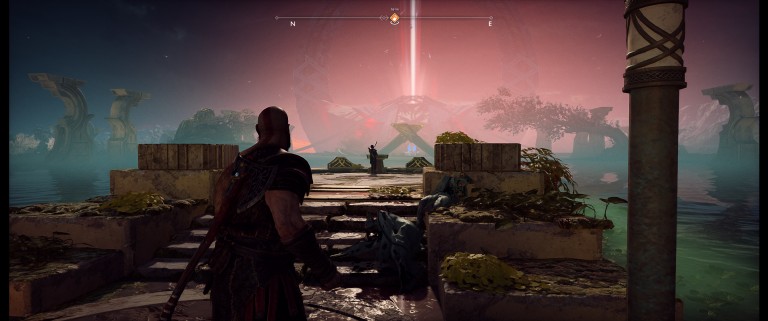 On the other hand, if you are part of this rare caste with a screen in 32: 9 format (we think of the Samsung Odyssey G9, for example), you are not going to be able to view the game in the full width. God of War will get stuck at 21: 9, with the black bands to go with it.
Second quality: the presence of the two "intelligent" upscaling technologies of the moment, namely DLSS from Nvidia and FSR from AMD. Remember that the first is reserved for those who have a GeForce RTX graphics card (from the 2060) and that the second is available on a very wide range of GPUs (from the GeForce GTX 1060 at Nvidia and Radeon RX 480 at AMD).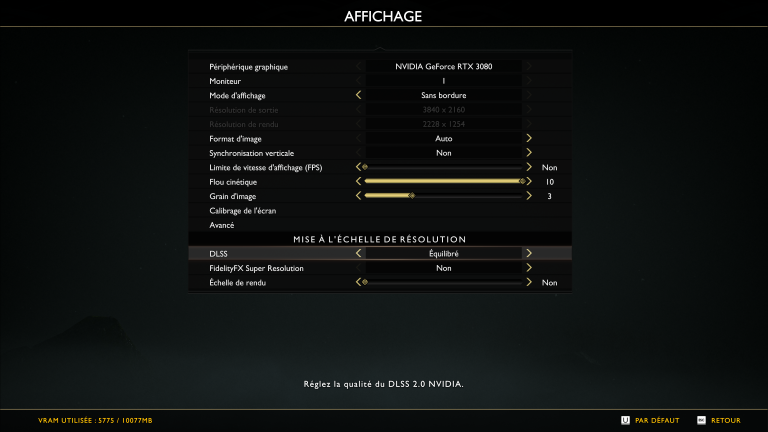 The goal is the same in both cases: to drastically increase the fluidity in games while maintaining a good level of rendering. As we had already seen on previous tests (especially on Deathloop), DLSS retains the advantage here and is much more efficient in terms of image quality, where FSR applies a – light, but visible – blur effect on textures, especially if you're playing at 1080p or 1440p. If you have the possibility, therefore, it is better to opt for DLSS, which will offer a much cleaner image.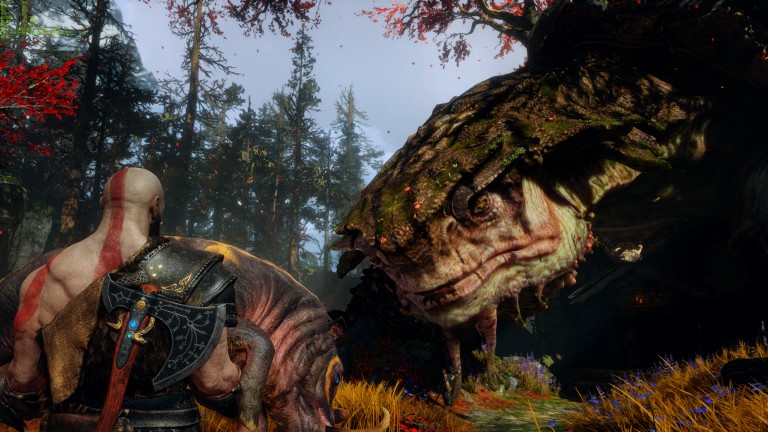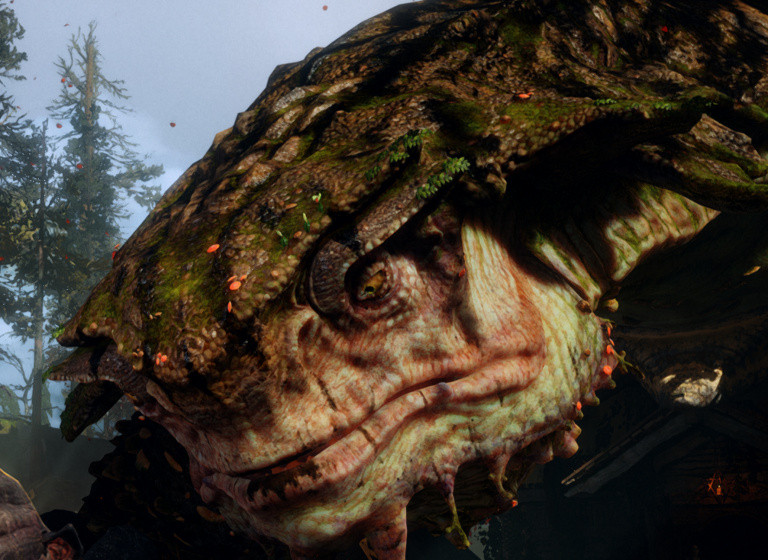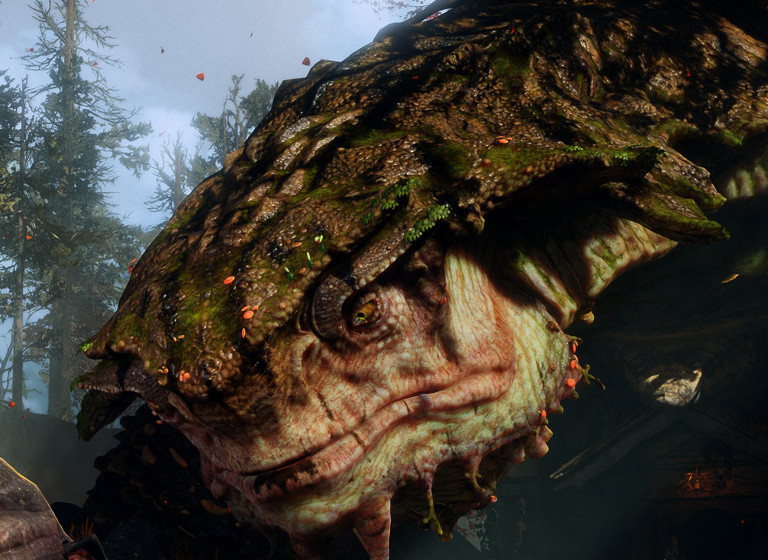 In both cases, however, the performance gain is frankly appreciable: with an RTX 3070, you can quietly exceed 60 FPS in 4K with DLSS activated in "Balanced" mode, while FSR will allow you to exceed 50 FPS in 4K with a Radeon RX 6700XT.
Playing God of War at 1440p is also quite possible with an entry-level or aging graphics card, even if you don't really have to rely on 60 FPS. With a GeForce GTX 1660 Super, for example, you will still enjoy an average of 46 FPS by activating FSR in "performance" mode and with the maximum level of graphic detail. In 1080p, you can even do without FSR and still shoot at almost 50 FPS. A little bit of FSR in "quality" should make it possible to reach the sacrosanct 60 FPS.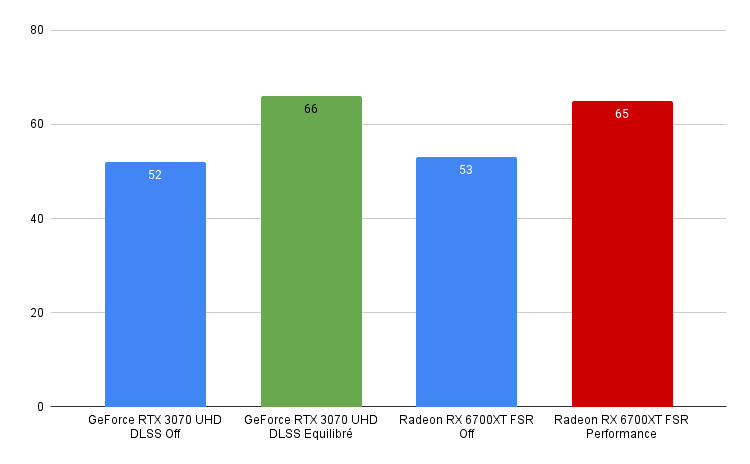 As for 4K / Ultra HD, it is accessible at "lower cost", again thanks to the efficiency of DLSS / FSR. With a GeForce RTX 2060 and DLSS set to "performance", we had the good surprise of exceeding the 40 FPS average in 3840×2160. By upgrading to the next generation, you will be comfortable with 4K at 50-60 FPS: an RTX 3070 will provide 67 FPS with DLSS in "balanced" mode. As for the competition at AMD, the Radeon RX 6700XT makes us reach 53 FPS with FSR in "performance" mode. Clarification as part of this technical test: we ran the game on different graphics and an AMD Ryzen 7 3800X processor, 16 GB of RAM and the files installed on an SSD.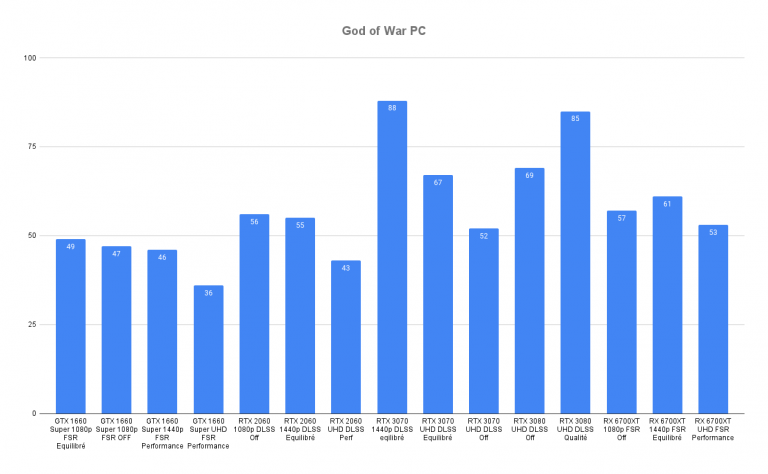 This PC version of God of War is therefore generally free from technical faults and accommodates a wide variety of configurations. To have the equivalent of the PS4 version of the title of Santa Monica Studio, you can be satisfied with a very modest PC. But the game knows how to take advantage of modern options and we appreciate the support for 21: 9 and especially the presence of DLSS and FidelityFX Super Resolution. With a mid-range PC, using DLSS and FSR correctly, you will therefore enjoy a version less equivalent to that of the PlayStation 5. One of the best PlayStation ports that we have seen on PC, everything simply.

---