A tiny little card that fits under your Nintendo Switch in a second can be life changing. One of the major problems with the Nintendo Switch is the lack of internal memory in the console. You just have to buy 1 or 2 dematerialized games, install Fortnite and take some screenshots to get through the 32 small gigabytes of the console. The OLED model doubled that number, but even with 64GB you won't get very far. Newer games are getting heavier and heavier, and you might be overwhelmed in just a few months.
So what to do? Systematically wait for the games to come out in cartridges and take up physical rather than virtual space? The most widely used solution is quite simply to increase the memory of the console with a micro SD card. What could be better for that than a micro SD card designed by a reliable manufacturer, one of the market leaders? With the 400 GB of the SanDisk Extreme, the storage capacity of your classic Nintendo Switch will be multiplied by 12.5.
The promo is pretty crazy: in addition to the micro-SD card itself, you will receive an SD adapter, in order to correspond, according to your needs, to the two formats. Usually sold for € 139.99, this small pack is currently offered at a pretty crazy price on Amazon: € 50.99 only. The case is extremely beautiful. We regularly deal with this type of product and we assure you that we hardly ever see such a strong promo.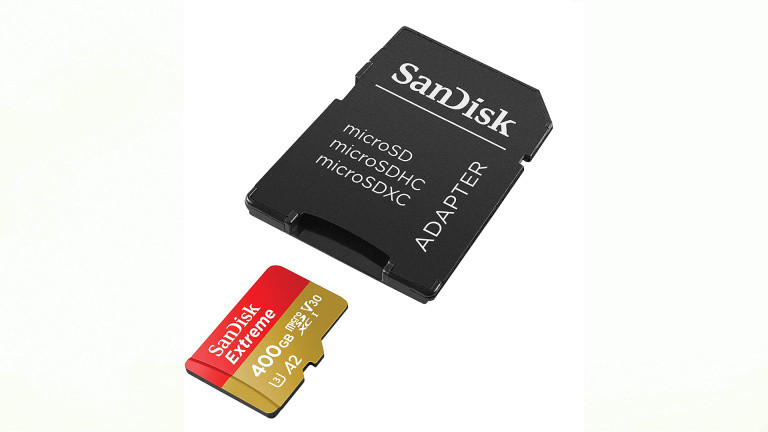 A micro-SD card that can convert to an SD card can theoretically work with just about any device that has storage memory. We have made a small list in the title above but it is obviously not exhaustive. You can add cameras, drones, tablets … in short, a lot of things. The SD card will serve as an internal or external hard drive for a bunch of objects.
With 400 GB, you will be really at ease. There is enough to download dozens of Switch games, thousands of photos or a good number of hours of movies in excellent quality (the card is 4K compatible). Transfer speed level, we are not on the speed of an SSD, but for the size of the machine, the performance is quite correct: up to 160 MB / s in reading and 90 MB / s in writing.
Unlike an old hard drive, an SD card is particularly durable. You have no chance of losing your data after dropping or even after exposure to water or extreme temperatures.