Initially sold at € 139.99, the wireless Cloud Flight is now displayed at € 69.99, the price of a mid-range wired headset for what is clearly a premium product. Indeed, the Cloud Flight does not lack arguments, starting with its weight which remains in the average of the wireless devices with 315g on the scale. Gaming requires, no bluetooth connection here, this device can only be used with 2.4Ghz in order to eliminate any latency, which offers peak performance, but prevents the headset from being used as a hands-free kit on your smartphone for example (you can always do it via a jack cable).
There are other classic options such as the atria which rotate 90 ° so that the Cloud Flight can be worn comfortably around the neck. Compatible with PC, PS4 and PS4 Pro, this headset adopts quality construction with an adjustable steel headband (and not plastic like on the low-end models). The headsets for their part house the classic controls, with the Power button, the volume wheel, or even a jack, a plug to attach the microphone boom, or even the plug to recharge the batteries.
For RGB enthusiasts, know that this headset can make the Hx logos of each headset shine brightly, with several programmable options via the excellent in-house HyperX NGenuity software. The only problem is that we have to be content with corporate red: we can therefore forget about the rainbow atmosphere. The downside is that the bright SWAG will eat up the battery. Autonomy thus reaches 30 hours without RGB and goes down to 13 hours when opting for the Christmas garland option.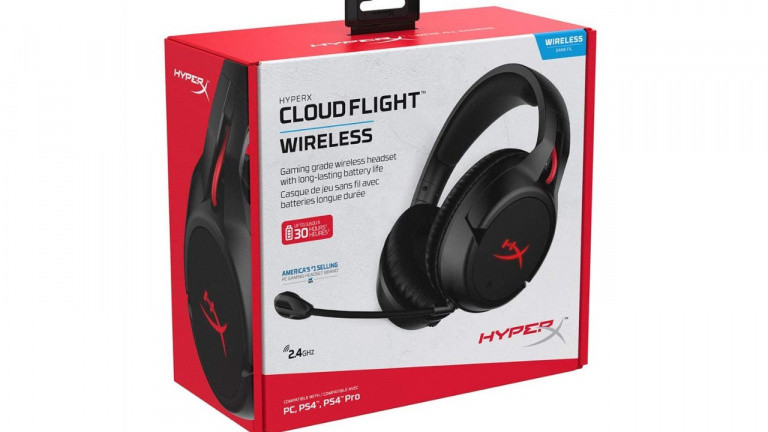 With 20 meters of range, the Cloud Flight allows you to play serenely on your console, while noisy environments will be brought into line by the ambient noise canceling microphone. In short, a nice helmet at a downright interesting price. Be careful, the Micromania site has an incorrect description that corresponds to the Cloud Stinger helmet, but the link makes you buy the Cloud Flight!