Whether it's for gaming at home, or for enjoying great performance on the go, gaming laptops are always a good solution. Here, we face a pretty baby who embeds a serious configuration and a 17-inch screen, which is not the top level of size, but which allows a sacred comfort in use. Finding a PC for less than 1500 € is not an easy thing when you want to be able to play with it, especially if you want to take advantage of the latest technologies. But with this crazy promo that increases its price from € 1199 to € 1099, the ASUS TUF706HM-HX105 could well succeed in squaring the circle.
Everything starts with a nice hexacore Intel Core i5-11400H processor (six cores therefore) clocked at 2.4Ghz whose performance should satisfy the vast majority of mobile gamers, and even professionals who do a little Photoshop or video editing. In terms of RAM, on the other hand, it will be necessary to be satisfied with 8 GB which is a bit weak nowadays, but nothing prevents increasing the total with an additional bar, since the PC supports up to 32 GB. D " elsewhere, if you are interested in the upgrade, we suggest you
this Kingston Fury 8GB SODIMM
which is currently at 49 €.
The RTX 3060 present in this PC therefore embeds 6GB of dedicated memory, and displays an 80W TGP which can go up to 90W in turbo mode. This allows you to calmly approach most of the games available on the market.
This GPU will send its images on a 17.3 inch 144Hz panel, which is again a very good point for competitive players. To avoid spoiling anything, the screen has a matt anti-reflective treatment, to avoid seeing your own face between two actions.
We specify that the screen is IPS, which means that the visual quality has not been sacrificed on the altar of pure performance. Films should therefore also benefit from a qualitative rendering.
Storage level, this ASUS hosts a 512 GB M.2 PCIe 3.0 SSD, and if you feel cramped, know that it is possible to increase the total by adding a second M.2 drive. Moreover, here too we recommend that you take advantage of the offer offered by Amazon with
the excellent WD Black SN750 500Go
at 79 € instead of 144 €, while the 1TB version is displayed at 105 €.
Connectivity level, nothing is missing, with an HDMI 2.0b, an RJ45, a Thunderbolt, three USB 3.2 and the traditional 3.5mm jack output. To do away with cables, ASUS has equipped its PC with a WiFi 6 card and a dual-band Bluetooth 5.2 receiver, which should accommodate all your wireless devices without the slightest lag.
Of course, all this is paid for on the scale with a weight of 2.6Kg (without power supply) which will not make it the best friend of those who spend the day with their PC in a bag. Finally, be aware that this PC comes without an OS, and that you will therefore have to install Windows 10 or Linux yourself.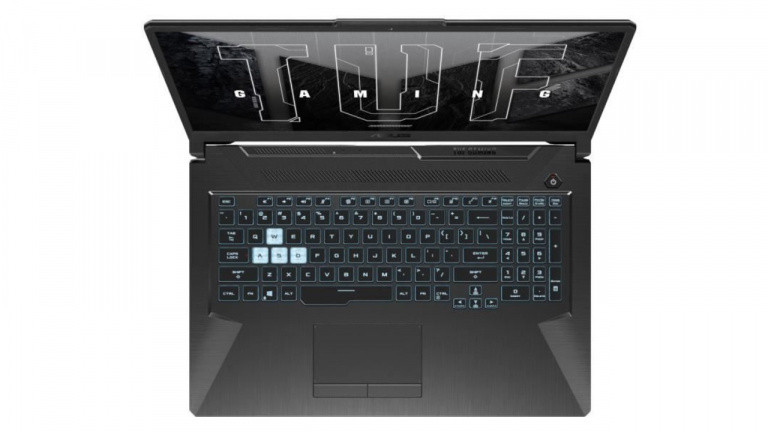 ---