Animal Crossing: New Horizons may have been released almost 2 years ago now, its recent update and the launch of its DLC last November have given the community a real boost. With a ton of new items to please both minimalists and fans of cottagecore, new features like Robusto's coffee, the kitchen, and the collection of gyroids, and even new villagers and NPCs, you won't be bored anytime soon by developing your island. Gamers who are fans of interior design will be all the more delighted by the Happy Home Paradise DLC, which allows you to build and furnish vacation homes for all the villagers in the game and even some NPCs, with original decoration techniques such as partitions, columns, and objects to hang. Enough to spend many hours on your Nintendo Switch!

The guides below introduce you to all the basics and most important aspects of the game. With them you will be able to develop your island at a good pace and achieve shape it however you like without tearing your hair.
The essentials to progress
For completionists
Model a dream island

To make your life on the island truly heavenly, remember to check out all our tips and tricks. You will learn how win as many bells as possible, get gold tools or some stellar rewards thanks to the showers of shooting stars.
Secrets of personalization
Energize your island
Earn money and more
Miscellaneous tips

Although Animal Crossing: New Horizons is mostly a sandbox-type game, the first steps of your island are scripted. Thanks to our complete solution, you can discover the tasks to accomplish to be able to get enough stars and finally welcome Kéké Laglisse in concert.

On these pages, you will have access to thematic guides to aid you in your quest for the perfect island. Of hybridization of flowers to collectibles, your island will no longer hold any secrets for you!
The flora of the island
Collectibles throughout the year
The weather and the seasons

Animal Crossing: New Horizons' very first DLC, Happy Home Paradise, brings with it all new game mechanics to allow you to customize your interiors to the end. Lou the otter invites you to work with her to fit out holiday homes for his clients, and later for open community places like a cafe or clothing store. Do not hesitate to consult our guides to know the progress of this new scripted adventure and to unlock all its features!
The progression of Happy Home Paradise
Side guides of Happy Home Paradise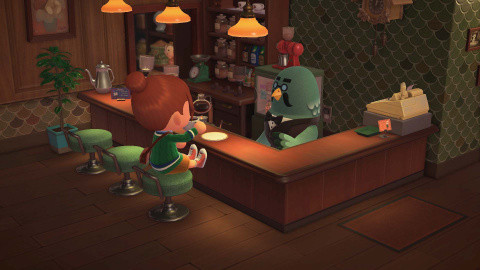 Summary of the Complete Guide to Animal Crossing: New Horizons