The Samsung Freestyle video projector was not really expected for this CES 2023 yet the Korean giant creates a surprise by presenting us with a particularly interesting product. Flexible and affordable, the Samsung Freestyle is a full HD video projector capable of carrying on any surface a quality image of up to 100 inches or 254 cm diagonal, HDR10 compatible. For the moment we have no information on the number of images per second.
One size relatively compact with its 15.6 cm by 9.3 cm for a weight of 800 grams only, the Samsung Freestyle is very versatile. It connects to a large number of devices like a Smart TV via direct Wi-Fi or even wired via its mini HDMI or USB type C ports. Its quick installation will allow you in a few seconds to project your Netflix movie or your current game session. It adjusts perfectly to the constraint of your room. Freestyle automatically corrects skewed images to achieve a straight, rectangular screen every time. Even if the ground is uneven, it has automatic leveling and ensures that your image will always be horizontal regardless of its surface. So you just need to turn it on. Adjustable 180 degrees, you can tilt the image on your ceiling at any time.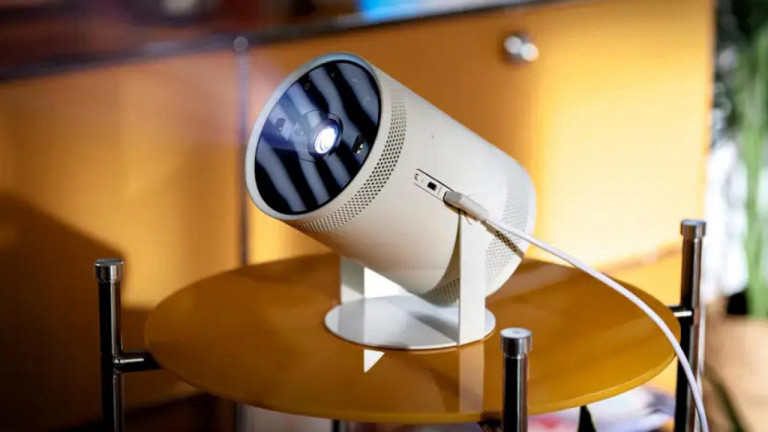 Fully automatic focus and keystone adjustment. Regarding its brightness, it is 230 ANSI Lumens for a contrast of 300: 1 (Native). Freestyle optimizes the image according to the color of the wall and improves your viewing experience in all circumstances so that you always have optimal viewing. The lifespan of the lighting is estimated at 20,000 hours.
Sound side, the Samsung Freestyle has a built-in 360 ° omnidirectional speaker of 5W allowing you to enjoy an immersive audio experience wherever you are. The device is fully compatible with voice assistants such as Bixby and Amazon Alexa.
Note that if you want to take full advantage of the nomadic aspect of Freestyle, you will need an external battery which is sold separately. The latter adapts perfectly to the base of Freestyle.
It will be possible to pre-order it from January 20 and will be available on February 17 at a price of 999 €.
---