It is therefore It Takes Two which won in the category "Game of the year" at the Game Awards, now commonly compared to the Oscars of video games. He therefore won ahead of Deathloop, Metroid Dread, Psychonauts 2, Ratchet & Clank: Rift Apart and Resident Evil Village. It is the still very whole Josef Fares, at the head of the studio responsible for It Takes Two, who came to collect the prize and who cracked a speech as unconventional as usual.
Released on March 26 for PC, PS5, Xbox Series, PS4 and Xbox One, It Takes Two is a game playable only in local co-op or online, which immerses you in the shoes of Cody and May, parents of a little girl, but whose couple are unfortunately struggling. The young girl learns that her parents intend to divorce soon, so she wishes that they can be reconciled. By some unknown magic power, the two adults find themselves projected into the body of two small dolls bearing their likeness and will realize that they will have to cooperate in order to regain human form … and why not pick up the pieces of their couple broken. They will therefore go through multiple adventures within their homes and their memories, will come across a gallery of quite crazy and endearing characters, in an adventure at a frantic pace, as funny as it is intelligent and refreshing.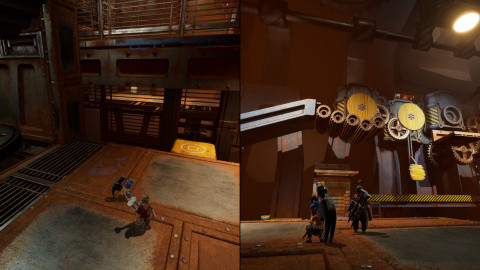 Kind of darling, I narrowed down the kids that would have come under the leadership of Pixar, It Takes Two puts cooperation at the heart of the gameplay. And it's a bold gamble today to come up with a game that can't be played alone or with random people online.. But Hazelight has thought of everything. As he had already done with the very nice A Way Out, another production exclusively playable in cooperation, it only takes one copy of It Takes Two to be able to play two. Of course, the question does not arise for the local co-op, but online, if you have a copy, it will suffice to send a friend code to someone who is playing on the same platform as you and 'she is able to join you and go through the entire adventure with you.
Rewarding It Takes Two as the best game of the year is not a total surprise, given the immense qualities of the game, but it was not the most obvious choice or at least not the most likely to be made. unanimity. By its principle, by its more modest budget than any other competitor on the list, and by the relative notoriety of the studio that created it, It Takes Two could have been erased behind Psychonauts, Deathloop, Resident Evil or even Metroid. But apart from the fact that it is without the most original co-op game of recent years, highlighting the pleasure of playing together at a time when the simple fact of getting together could have been very complicated, undoubtedly played a role. in the balance. This will undoubtedly allow the title of Hazelight to shine a little more and it is in any case all the harm that we wish him.