Since the release of Farming Simulator 22, modders have never stopped developing new mods and vehicles to improve the playing experience of all budding farmers. One of the most ambitious mods released recently is Terra Farm, a mod script that allows you to use your machines to terraform instead of going through construction mode.
With Terra Farm you can manipulate the soil as you wish by digging holes, filling them or even leveling certain areas. Just like in build mode, you can also use terrain paint to change the texture in the places of your choice.

You will not need to download specific machines to be able to use Terra Farm, since the mod is compatible with a number of vehicles available in the base game. You can find the list below:
However, if you want additional material, some machines found on the Farming Simulator 22 ModHub are already compatible with Terra Farm. Here is the list:

To make your life easier, we advise you to activate the machine help menu by pressing F1 to have all the keyboard shortcuts at your disposal. To activate terraforming functions, all you need to do is press Y when using a machine compatible with the mod. Remember to press Y again when you are finished to turn these features off.
Once the mod is activated with Y, you can press X to choose the excavation mode, that is, either dig, or adjust to a defined height, or smooth. With key B, you can change the unloading mode to choose between fill, adjust, smooth, or add texture. By pressing W you will have access to a menu which will allow you to customize the functions of the mod, such as choosing the power of the tools and the width of the brush to apply field paints.
This mod is very useful if you are looking to add realism to your game, but remember that bugs can occur, especially in multiplayer mode where anyone can terraform anywhere, so be careful.

The risks of falling on a virus being quite high, we do not recommend downloading the mod elsewhere than on the platform chosen by the creator, GitHub. Meeting on this page, click on the latest version of the file FS22_TerraFarm.zip to download it, and copy it to your mods folder. As a reminder, the mods folder is created automatically when you install Farming Simulator 22, and is located in Documents> My Games> FarmingSimulator2022.
Note that mods can only be used on PC and Mac versions of Farming Simulator 22.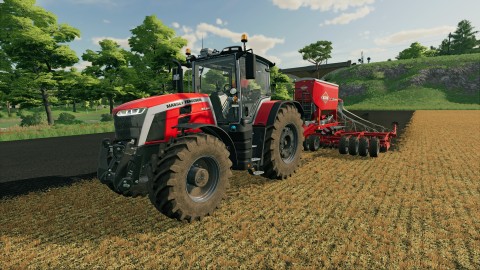 Farming Simulator 22 Walkthrough Summary