It is in a press release that Warner Bros., TT Games, The LEO Group and Marvel Entertainment shared the news: Lego Marvel Super Heroes is coming to Nintendo Switch on October 8. The title, already released on PC, PS4, Xbox One, PS3 and Xbox 360 in 2013, offers players to play the famous heroes of the license such as Black Widow, Loki, Spider-Man, Nick Fury, Iron Man, Wolverine, Captain America, Hulk, Thor, Hawkeye, Deadpool or even Galactus while exploring the famous places of the license, Asteroid M and Asgard in mind.
This Switch version also includes two additional content released after the original release: the LEGO Marvel Super Heroes Super Pack new vehicles and races as well as heroes such as Dark Phoenix, the Winter Soldier, Symbiote Spider-Man, Hawkeye, Falcon, or Beta Ray Bill. The second, entitled
LEGO Marvel Super Heroes Asgard Pack, focuses on Malekith's quest for revenge but also offers to play Jane Foster.
Lego Marvel Super Heroes releases on Switch on October 08, but is already available on PC, PS4, Xbox One, Xbox 360, PS3 and Wii U.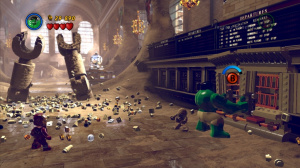 Read also :