The principle of Minecraft has always been to let your imagination run wild, and since its release more than 10 years ago, players are having a blast. Quickly become cult, the sandbox type game gives all the freedoms to its community, which continues to help each other by producing mods or worlds to enrich everyone's gaming experience.
With its extensive terraforming options, players can build anything they can think of, like rotating constructions inspired by Halo, and even unusual creations like an 8-bit microprocessor that allows you to play popular games like Tetris and Snake! But sometimes their inspiration comes from everyday objects, as is the case for the Reddit user NameALlama and its giant oreo.
It is indeed a chocolate cookie that NameALlama chose to represent in Minecraft, and it is far from trivial. In addition to 13 days and 46,727 concrete blocks that it took him to bring this giant oreo to life, NameALlama made his creation in Survival mode. So it had to face all kinds of enemies and dangers during its construction, and he miraculously managed to avoid death during these 13 days.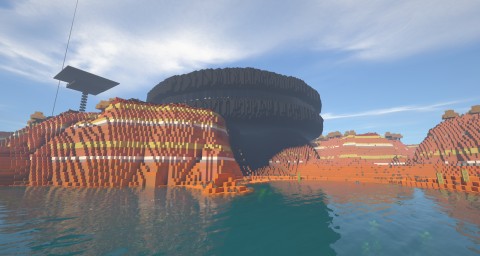 In addition to having detailed the exterior with the famous oreo logo that can be found on all the cookies, NameALlama took the time to do the same inside, and decorate his creation with torches from floor to ceiling. These details are all the more impressive when you take into account the time spent crafting the almost 50,000 concrete blocks of this construction.
NameALlama said he didn't want to repeat the experience, so if you want a glass of milk with your oreo, you're going to have to build it yourself. So get to your pickaxes!
Summary of the Minecraft walkthrough