Ultra transportable and nomadic, the Nebula Cosmos Laser 4K is a mini video projector. These are often content with a simple 1080p resolution. Presented at CES 2023, the case incorporates the characteristics of the Mars II Pro video projector launched in 2019. With a size of 17.8 x 13.3 x 12.2 cm for a weight of only 1.79 kg, it offers more than honorable characteristics given the size of the device.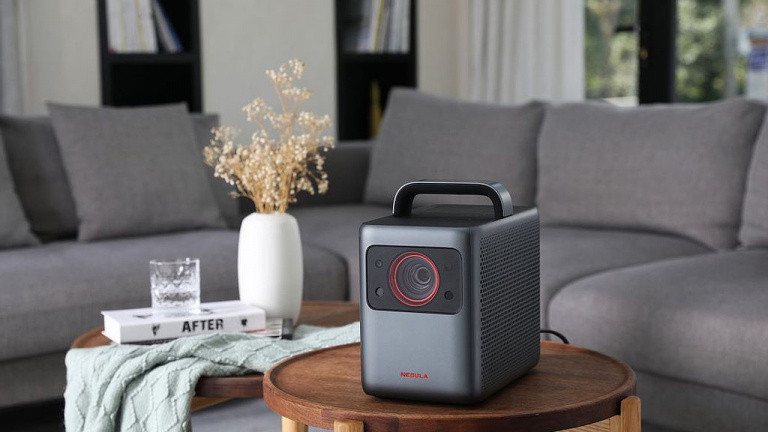 The new version of the Nebula offers features worthy of the biggest 4K projectors market via in particular excellent brightness with its 2400 ANSI lumens or 6000 lumens. Equipped with Android TV version 10, it offers a wide choice of applications and projects an image with a resolution of up to 4K i.e. 2160p (3840 x 2160 pixels).
It installs in just a few seconds via an automatic calibration system in order to transcribe an optimal image, whatever its environment. You will not have to do anything: put it down and turn on the Nebula / Anker Cosmos Laser 4K will take care of the rest. You will enjoy a perfectly sharp image in all circumstances. Indeed, in addition to an automatic alignment correction, the video projector has an autofocus system to adjust the focus. The Anker Nebula Cosmos Laser 4K uses DLP ALPD 3.0 (Advanced Laser Phosphor Display) projection technology, the same that powers the Xiaomi Mi Laser 150 projector.
Sound side, the small device has two speakers of 30W each. It uses AiFi technology which allows optimized sound rendering with 3D effects. For the time being, we do not know the connection that the device will embed. The Nebula Cosmos Laser 4K will be available in France from next March at a price of 2199 euros.
---