Are you desperate to play on a latest generation graphics card without having to mortgage your apartment? Looking in vain for a good plan for a GeForce RTX at a decent price? Nvidia may have a solution you weren't expecting: a new subscription to its GeForce Now cloud-gaming service, which allows you to play on a PC equipped with a GeForce RTX 3080, which is almost the most popular graphics card. powerful market. In addition to a significant performance gain, which will allow you play in 1440p up to 120 FPS on PC or Mac and in 4K at 60 FPS on Shield TV, this unprecedented offer inaugurates a new latency management technology at Nvidia, which allows better reactivity.
As a reminder, GeForce Now is a service that allows you to stream part of its catalog of games from Steam, GoG or Epic Games Store. For example, if you have a copy of Cyberpunk 2077 on one of these platforms, you can launch the game without prior installation, remotely from Nvidia's servers. With the RTX 3080 subscription, you will therefore be able to play the CD Projekt RPG in 1440p on a MacBook, with ray-tracing and DLSS, as if you were on a "gamer" PC.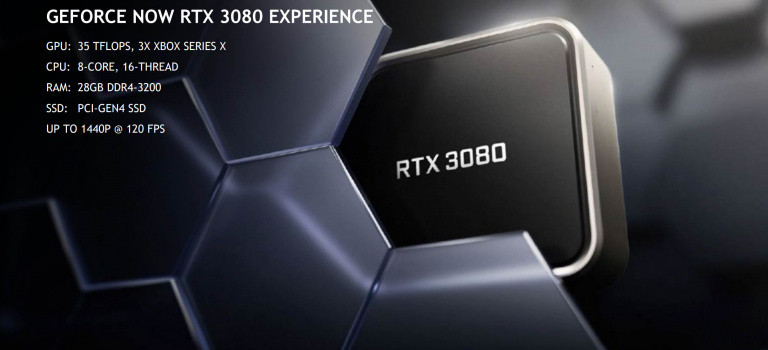 We develop it further in the video above, but know that this new subscription has largely convinced us. The latency is indeed very low and often imperceptible, especially in a solo game. However, a fast and stable connection should be favored, ideally via an Ethernet cable or a 5 GHz WiFi. On the Shield TV, in particular, the rendering in 4K and HDR at 60 FPS is of excellent quality and one really has the impression of being on the game "locally".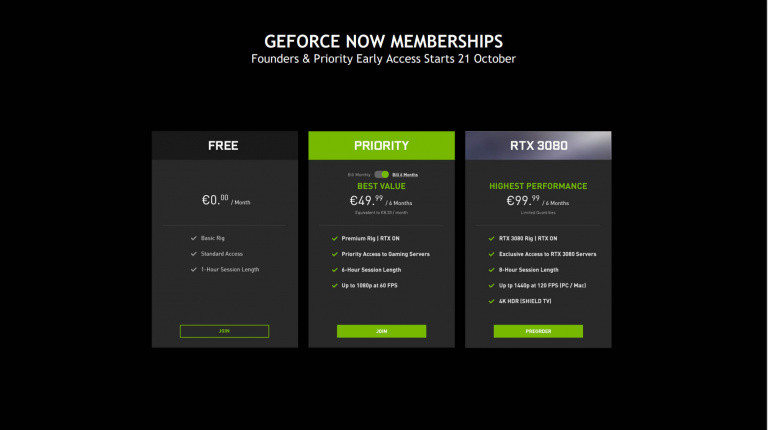 Currently, GeForce Now is available through 3 offers. The first, free, allows you to play for an hour in a row only before being disconnected and does not give access to a GeForce RTX graphics card. The second offer costs € 49.99 for 6 months and gives access to a PC equipped with an RTX 2080, with a limitation of the definition in 1080p / 60 FPS and a maximum of 6 hours of playing in a row. Finally, the new "RTX 3080" offer is priced at € 99.99 for 6 months. Nvidia is currently in the process of gradually opening up access to this subscription, with in particular the construction of a new Data Center in the Paris region, which should allow French players to enjoy even better streaming quality.
To sign up for GeForce Now, go to the Nvidia website.
Anyway, after several hours of testing, we can clearly say that Nvidia has a high-end and ultra-efficient cloud-gaming offer, both in terms of rendering quality and low latency.
---