The month of December is full of surprises for those who know how to look. A named Twitter user Timur222, presenting himself as "Passionate about video games, Wikipedia contributor, Internet explorer"was delighted with the arrival of December, because being used to explore and search the LinkedIn accounts of the video game industry, he noticed that it was the period of CV updates. And precisely, he found something at Lucid Games …
Two LinkedIn accounts particularly caught the attention of Timur222. That of Drew Williams-Rostron, first of all. At Lucid Games since 2017, he worked in the QA department, and announces on his account to be Technical Designer from August 2023 to October 2023. During this period he announces having worked as:
Technical Designer on a first-party showcase AAA license for the PS5, unannounced.

The other account is that of Kristjan zadziuk, animation director at Lucid Games. He was notably animation director on Destruction AllStars for the PS5, and affirms working since May 2023 on a new, unannounced project, as director of animation once again. It is therefore likely that the two men are working on the same new project at Lucid Games.

So what we know is that Lucid Games is working on a first-party game for the PS5. It is qualified as AAA, and even "showcase" for the console which means that the project is very ambitious and considered major on the scale of the games released and planned on the console. The bar is therefore set quite high, especially for a studio like Lucid Games, which is not a beginner but has never published a game that can truly qualify as AAA.
Neither account talks about "new IP", a new license. It is therefore possible that this is a completely original game, but more probable that we are talking about an existing intellectual property. And in this regard, Lucid Games was recently quoted by the VGC site, as we told you about in a news a few weeks ago. According to VGC sources, the Twisted Metal license is about to be reborn from its ashes, through an original game developed by Lucid Games. Unlike Destruction AllStars, criticized and then deserted because of its price (80 euros when it was released, 20 euros now), Twisted Metal would be already planned by Sony and Lucid Games to be free-to-play, which would aim for an exit during the year 2023. Indeed, a series produced by PlayStation Productions adapted from the universe of Twisted Metal is scheduled for this period. As a reminder, Twisted Metal is a franchise born in 1995, created by David Jaffe, the man who will create God of War several years later.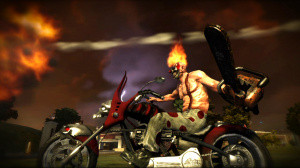 A another persistent rumor this year wanted that Lucid Games has partnered with the studio again XDEV, in order to work on the next installment in the famous futuristic racing franchise WipEout. This one would be a game intended for PlayStation VR 2, on PS5. He would be the flagship title of PS VR 2, and it's not that unlikely when you consider that WipEout Omega Collection had hosted a very successful and quite impressive update, adding VR. On the other hand, WipEout is a license which often serves as a "showcase" to Sony, which would fit Drew Williams-Rostron's description of the game. Finally, we cannot exclude that the game developed by Lucid Games may not be neither Twisted Metal nor WipEout but another franchise from Sony or even an original IP.
Lucid Games is therefore preparing a first-party AAA game for the PlayStation 5. We are now waiting for an official announcement to know the license in question.
To read next: