On the program, each part will take place on a map of 3 areas, 15 minutes per zone. During this time, one objective per area will be randomly determined out of 13 possible, such as rescuing an agent, scanning monster nests, stealthily eliminating said monster, securing an area or sabotage, etc.
In each round, three endings await the squads: die, escape while keeping their XP points, or of course accomplish the objective and enter the airlock of the next area, without the possibility of backtracking. To spice up the action, the difficulty gradually increases across all three areas, but also yields ever-increasing rewards!
Four squads will try the experiment:
What beautiful people! Which trio will get the highest score? You will find out this Wednesday from 8 p.m. on the Rainbow Six France Twitch channel!
In parallel, the live will be broadcast on the channels of each of the participants. Adyboo and Lutti will not fail to pay them the necessary visits to share their respective points of view with you.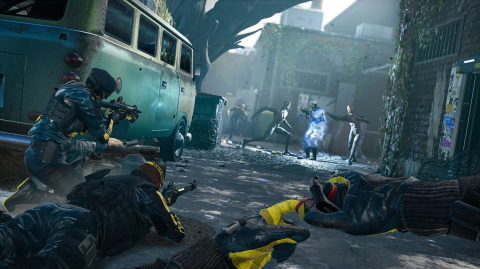 On the gameplay side, Rainbow Six Extraction positions itself as a 1-3 player co-op tactical first person shooter. Enroll in REACT, a "Rainbow" elite unit to compose among 18 agents and launch forays to rid the planet of alien parasite "Chimera".
Your agents will of course be able to progress and improve over the course of operations. More than 25 gadgets and 12 dynamic maps await them to do this. If you like difficulty, mode end game Maelstrom Protocol is based on specially designed incursions to give you a hard time.
In addition to its planned post-launch set of free content, as well as cross play cross save and cross play cross save on all platforms of the same brand, players of Rainbow Six Siege will be able to unlock all 18 Extraction Agents as well as the United Front elite cosmetic packs in both games.
Rainbow Six Extraction will be available from January 20 on PlayStation 4 and 5, Xbox One, Xbox Series X|S, and PC via the Epic Games Store and the Ubisoft Store. The game will also be included in Xbox Game Pass and PC Game Pass subscriptions.
Pre-order Rainbow Six Extraction