Horizon Forbidden West may come out in a month, but we don't know much about Aloy's next adventures. As an answer, PlayStation and Guerrilla Games have just unveiled a new 3-minute story-driven trailer. We can see familiar faces, from the first episode, but above all new characters, most of them enigmatic. Who are they ? What will be their role in the Forbidden West? To find out and satisfy our questions about the script, we were able to chat with Benjamin McCaw and Annie Kitain, respectively narrative director and senior author on the title.
"Forbidden West begins six months after the events of the first episode, and during those six months a mysterious red corruption has begun to take possession of the lands. Aloy noticed it, and she knows it's a symptom of the degradation of the biosphere (caused by the adventures at the end of Horizon Zero Dawn – editor's note) which caused a lot of problems on the state of the world . She therefore spends these six months returning heaven and earth to try to stop this corruption. And this mission will continue and bring him to the forbidden West" – Annie Kitain
---
Annie Kitain confirms this: Horizon Forbidden West does not start directly in the Prohibited West. "Part of the adventure will be to get to this border". It is obviously for this reason that Aloy will be able to count on the help of heroes drawn from the first episode. Starting with Erend, Vanguard man of the Oseram tribe, whom we already had the opportunity to see in a gameplay trailer, in May 2023. But also Varl, a Nora warrior whom Aloy meets in Zero Dawn, unveiled in the last video.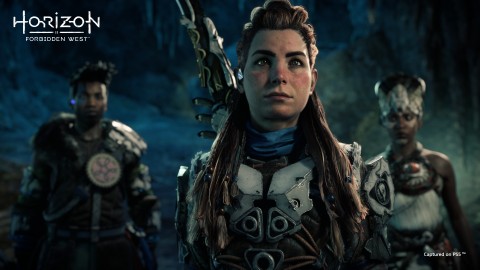 Two characters whose presence will be much more supported than in the previous opus, described as real "companions on the road" for the heroine (it remains to be confirmed whether they will be systematically at her side). "With Forbidden West, we wanted to put more emphasis on the side quests and those who will accompany Aloy on her journey" explains Benjamin McCaw. The fiery-haired young woman was more of a lone wolf type in Horizon Zero Dawn, with no real sidekick to assist her. "Other main characters will also return" also notes the narrative director.
---
However, it is Aloy who will be the headliner, she who entered the very closed club of PlayStation mascots, in 2017, alongside Nathan Drake (Uncharted) or Jin Sakai (Ghost of Tsushima). "Horizon Forbidden West is truly the next chapter in its story" confirms Annie Kitain. "We want to have an epic and also emotional adventure, to have Aloy growing as a character (…) everything that we wrote, whether it was for the main quests or the side quests, we wanted her to have these opportunities to grow as a character". grow and "change" according to Benjamin McCaw, on the PlayStation Blog. We couldn't resist asking him what he meant by that:
"Aloy grew up as an exile. In Horizon Zero Dawn, she really learns to create social ties, she sees all these tribes for the first time, she discovers the world for the first time. But he is not someone who is comfortable with humans (…) As she ventures into the prohibited West, she will find people she already knows, but also meet new people. And these new people are going to put it to the test. I'm not talking about fighting (…) these individuals will test her emotionally. Aloy carries a heavy burden: to save the world from corruption, but also the burden of reaching the example set by her biological mother, Elisabet Sobeck (…) During the game, we will see how this pressure reaches her, influences her relationships and transforms her" -Benjamin McCaw
---
Among these new people, there is in particular Regalla, leader of the rebel faction of the Tenakth tribe who will be embodied by Angela Bassett (Mission impossible 7, Black Panther), unveiled in the last video. She will be one of the main antagonists of Horizon Forbidden West. "Regalla is a fearless and ferocious warrior (…) she is truly inhabited by a hatred against the Carjas tribe, and she is someone who wants to set the world on fire and blood to achieve her revenge" explains Annie Kitain. "It's a big threat to Aloy". Regalla will also receive help from Sylens, a wandering traveler and researcher from the first episode. It is thanks to him that the rebel will be able to control the machines and realize her dark designs.
The narrative director also draws our attention to Tilda, an enigmatic female character played by the famous Carrie-Anne Moss (Trinity in The Matrix) and who appears at the very end of the trailer. "He is a very mysterious person who has a special connection to the Ancients' past. (the human beings behind the buildings and technology depicted in Horizon – editor's note)" he says. Mysterious, like Aloy's true objective in the forbidden West. For the moment, we only know that she is looking for a "way to stop the corruption". Obviously, this will take the form of several artifacts to find, as illustrated in the gameplay trailer from last May. But everything – or almost – remains to be discovered. Released February 18 on PS4 and PS5.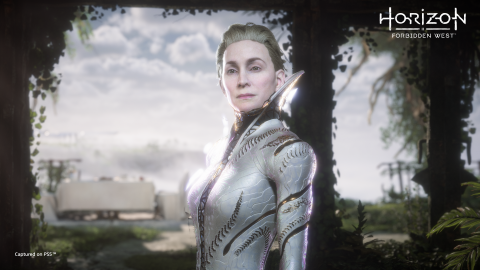 "(After Horizon Zero Dawn – editor's note), we thought about all the ways to improve it (…) So when developing the sequel, we knew it should be epic, with new machine fights and even more incredible, battles against improved humans, new factions, tribes, and even more incredible locations" -Benjamin McCaw
---