As the franchise's 25th anniversary draws to a close, Tomb Raider official account unveiled an unexpected collaboration on Twitter. Akihiko Yoshida, the illustrator and character designer known for his work on many games from the Final Fantasy saga – in particular Final Fantasy XII and more recently Final Fantasy XIV and its expansions – has once again lent his services to Square Enix to make a gift to Lara Croft fans: an exclusive Rise of the Tomb Raider wallpaper.
The wallpaper, which is of course free, shows Lara in Yoshida's distinctive style. Armed with her bow, her pistol, and her mountaineering ice axe, Lara is more determined than ever to set off on an adventure. Brush effects add texture to the rock formations in the background, and if you look well behind Lara, you can even see some ruins. Go to Syria with Lara thanks to this superb wallpaper by Akihiko Yoshida available for mobile, desktop, and even in banner format for social networks:
It's finally time to reveal our Rise of the Tomb Raider collab with renowned artist, Akihiko Yoshida! We can safely say, the wait was worth it.

Read all about this stunning box art reimagining piece from Yoshida, and download the art here: https://t.co/hGI9EEzOF3 #TR25 pic.twitter.com/wabkw6BztL

— Tomb Raider (@tombraider) January 17, 2023
To accompany his tribute to the franchise, Yoshida wanted to congratulate the developers and fans who have made it possible to bring the heroine to life through 12 games and 25 years of content:
Being part of such a memorable project as Tomb Raider, a series that continues to be loved around the world, was an honor and a pleasant experience. Congratulations on the 25th anniversary of Tomb Raider. In this work, I opted for a simple composition to show Lara about to embark on an adventure full of conviction and confidence, strength and mature beauty. By the way, as a tribute to the very first Tomb Raider, I used the color of his tank top to paint the background. – Akihiko Yoshida
In addition to the wallpaper, Tomb Raider fans will also benefit from an alternative cover to print to, if they wish, replace that of the physical version of Rise of the Tomb Raider. It is available in different sizes to suit the dimensions of PlayStation 3, PlayStation 4, Xbox 360, and Xbox One games, you just have to follow the instructions provided with the files to print it correctly.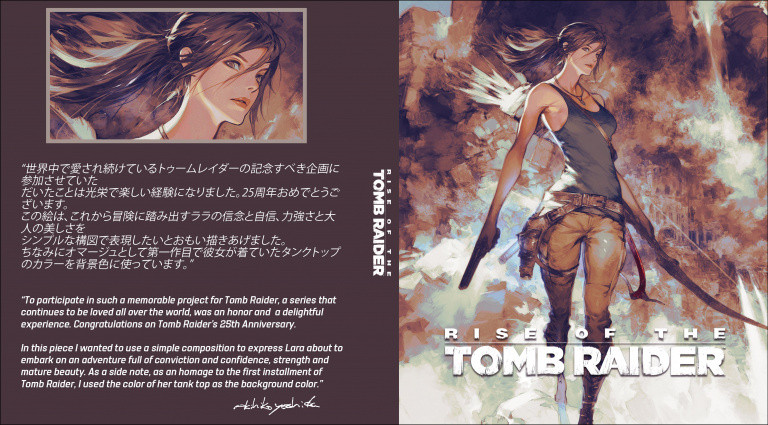 To get your hands on the wallpaper and cover created by Yoshida, all you have to do is go to this page and click on the link at the very bottom of the page, designated by the text Download the Rise of the Tomb Raider Box Art Reimagining here.
And you, what do you think of these goodies? Are you going to use the wallpaper to beautify your desktop or create waiting screens for your streams? Tell us everything in the comments!