The mysterious alien parasite Chimera, having struck New Mexico, is gradually spreading its invasion throughout the United States. The Rainbow elite team could not remain without reacting: the Rainbow Exogenous Analysis & Containment Team (REACT) was created to fight this new enemy, with archetypes bearing names as evocative as Sower, Tormentor, Toxic Prowler or Alpha. An entire program.
On the board, Adyboo and Lutti will commentate and animate the squad games composed of enthusiasts and experts selected for the occasion. Among 13 types of tactical missions, these elite teams made up of three people can gather information from contaminated nests or hunt down an elite Archaean.
Four "REACT" squads will play games to accumulate as many XP points as possible:
Head over to the Rainbow Six France Twitch channel, from 8 p.m. to discover live the cooperative mode of Rainbow Six Extraction, and the squad that will climb to the top step of the podium.
In parallel, the live will be broadcast on the channels of each of the participants. Adyboo and Lutti will not fail to collect their impressions at each end of the game, concluded by a defeat, an extraction or the end of the 3rd and last zone of the chosen map.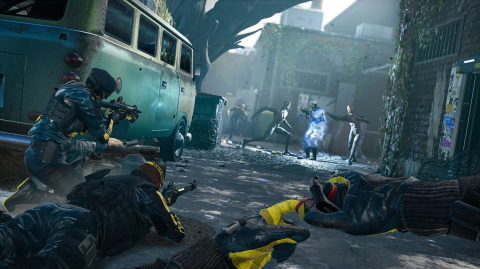 Rainbow Six Extraction will be available on January 20 on PlayStation 4 and 5, Xbox One, Xbox Series X|S, and PC via the Epic Games Store and Ubisoft Store. The game will also be included in Xbox Game Pass and PC Game Pass subscriptions upon release.
Pre-order Rainbow Six Extraction