Much appreciated, the film adaptation, referred to as Scott Pilgrim vs The World, has been directed by Edgar Wright, accompanied by Michael Bacall for the screenplay and Nigel Godrich for the music. Scott Pilgrim was played there by Michael Cera, while Ramona, Knives, Stephen Kim and Wallace were respectively played by Mary Elizabeth Winstead, Ellen Wong, Mark Webber, Alison Pill and Kieran Culkin.
Among the elements that made the film quite popular, we note the presence of pixels and on-screen onomatopoeias, thus reminiscent of the comics without it swearing with the play of real actors, as well as many references to pop culture. Overall, the feature film was rated as dynamic, inventive and visually very interesting, compensating for a script a little below.
Never mind, Scott Pilgrim has obviously not finished with the public. According to information collected by The Hollywood Reporter, Bryan O'Malley and BenDavid Grabinski are said to be work on a script for Netflix, which would then give birth to an animated series Scott Pilgrim if the project is popular, and the platform commands officially series.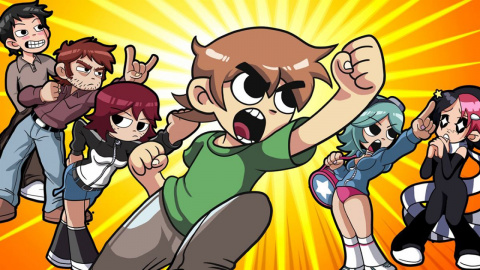 Edgar Wright, director of the film is also said to be involved. alongside Nina Park, Marc Platt, Jared LeBoff and Adam Seigel and Michael Bacal as executive producers. If the project is validated, we could find the SARU studio (Devilman Crybaby, Night is Short, Walk On Girl and Ping-Pong The Animation) behind the animation. It will therefore be necessary to be patient while waiting for the project to be presented and accepted by the platform, and even more so if the animated series is put into production.
However, this Wouldn't be Scott Pilgrim's first foray into the animation world, since Kotaku recalls that in 2010, short films called Scott Pilgrim vs. The Animation aired on Adult Swim during commercial breaks.