Crowned with success for his work on one of the biggest video game licenses, namely Bioshock, the one who is also at the origin of System Shock 2 went to new horizons, under the banner of his own studio Ghost Story Games, after the adventure Bioshock Infinite. It goes back several years, back to 2013 to be precise, but since 2014, Ken Levine and his entire studio have been silenced about their very first game.
In reality, behind this disturbing silence, hid a very sad reality as reported by Jason Schreier for the Bloomberg site in a long investigation. This new information is an opportunity to discover the reasons behind this endless radio silence and all of them point to excessive ambitions and great management difficulties, both for the project and for the staff.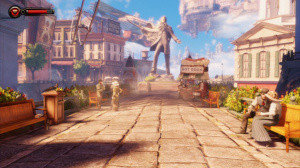 More or less, the studio Ghost Story Games has hardly been talked about for eight years. This considerable developmental interval could be explained in several ways, according to the information gleaned by Jason Schreier for the writing of his survey. Among the facts reported by the journalist, there is a real problem of team management: if Ken Levine has proven his creative and artistic talent, it would seem that he is not a born manager.
About fifteen testimonials from former and current members of the development team abound in this direction. Besides his inability to guide his team members, it would appear that Ken Levine has difficulty in clearly sharing his vision on the project and that he would even be intimidating when one comes to question his ideas or the work done does not suit him, resulting in a series of burnout among developers.
Difficult to improve the situation during these many years, and for good reason: Ken Levine was given full powers by Take-Two who has no control over the project, reinforcing the lack of clear guidelines. As a result, development dragged on and the game, supposed to be released in 2017, has still not seen the light of day. At present, part of the Ghost Story Games team remains optimistic and plans a launch by 2024, without being completely sure.
If it wanted to be a project on a human scale – a workforce reduced to less than thirty people -, the game was quickly overtaken by its too great ambitions, accumulating objectives that no longer matched the "indie" DNA of the title in question. From what we know, the game was supposed to be akin to a sci-fi shooter – a pitch in the vein of System Shock, obviously – within a space station where several factions coexist, exactly three, which the player has to manage relationships.