Tales of Arise, the latest game in the cult series of Tales Of of Bandai Namco, takes place in a world where the medieval planet of Dahna has been annexed by the technologically evolved planet of Rena. Three centuries ago, the Renians invaded Dahna to enslave its people. They divided the planet into 5 isolated areas, each ruled by a Lord : Calaglia, Cyslodia, Elde Menancia, Mahag Saar, and Ganath Haros. A competition is organized periodically to decide on the new Sovereign Renien, based on the rate of astral energy extracted from the people and environment of Dahna by each Lord. Resistance groups have formed in the different areas, and you play as Alphen, a young man with amnesia revolted by the Renians' treatment of his people. His meeting with Shionne, a Renienne who wishes to end the reign of the lords, will change his life forever and start the adventure of Tales of Arise.

On these pages, you will find all our guides to get started in Tales of Arise. There you will find detailed explanations of the different combat system mechanics, including how to perform effective combos and manage your team well, but also how to perform Mystical arte and get new Artes. Of course, you will also have access to our advice to farm experience easily.

In this part of our guide, you will find the complete journey of the main story of Tales of Arise, as well as written and video guides to help you beat the different bosses in the game. Our complete solution also includes collectible locations most important, but you may find dedicated guides below if you want to avoid spoilers.

Like any good JRPG, Tales of offers a bunch of side quests, side activities and of collectibles of all kinds. Below you will have access to guides to help you complete side quests in different areas, to master activities such as the Peach and goldsmith, but also all the locations of the game's collectibles, from Owls to Giant Zeugles, including Astral Flowers and hellish weapons.
Side quests
Owls location
Location of the Giant Zeugles
Collectibles, craft and related activities

Quest Visitors from Another World and Hellish Weapons

This section groups together step-by-step guides for the different members of your team : what are their strengths, how to take advantage of them, how to improve them … You will also find thematic guides concerning the Titles, which allow you to gain new skills, as well as the details of the Artes that you can unlock for each member of your team and what they bring.
Team members
The titles
The Artes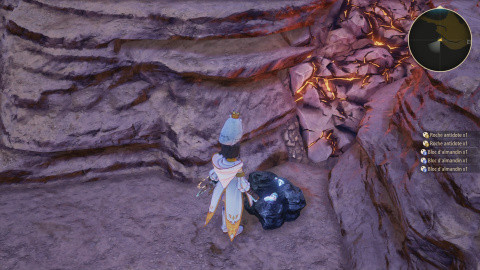 Tales of Arise Walkthrough Summary