Present in the computer market for very long years now, Asus has quickly made a place of choice in the hearts of gamers, whether for its motherboards, its famous graphics cards or all the ancillary peripherals. From screens to mice through keyboards or headsets, today it is quite possible to proudly display your belonging to the brand and to have a complete setup that is coherent, efficient and not too ugly.
Because for a long time Asus suffered from an emotional deficit in terms of design for its products, which is no longer the case in recent years. A team of young and talented designers had to join the ranks of the Taiwanese brand to give it new impetus. And it works, objects have become desirable, like the Asus Rog Strix Go USB-C, Core, 2.4 or BT headsets which blend perfectly into the urban landscape.
Normally available for € 249.99, the Asus ROG Strix Go BT gaming headset is currently on sale on Amazon for € 199.99, a reduction of 20%.
The full range of ROG Strix Go headsets is therefore made up of two wired headsets, the USB-C and Core, and two wireless headsets, the 2.4 and BT.
The main difference between the two wireless headsets is in the transmission mode. While the 2.4 requires a small, proprietary 2.4 GHz USB-C dongle to swap and work with all the devices you want, the BT, as its acronym suggests, is a stand-alone Bluetooth headset.
The advantage of such a headset is to be able to connect directly and easily to all your mobile devices such as a smartphone, a laptop or even a Switch very quickly and without any latency thanks to the Qualcomm aptX technology. The downside is that with closed systems like the PS5 or the Xbox Series, it can only work with the supplied jack cable to connect to the controller. This is not a constraint for most people, but for some it can be.
Another major change is the absence of a detachable microphone, replaced here by a integrated surround microphone equipped with noise cancellation technology (AI Mic). It's quite effective and above all very practical but it will never be as good as a microphone facing the mouth with a foam. To see according to your uses therefore.
Finally, note that the helmet is equipped with a active noise reduction (ANC), to strengthen its nomadic side and thus play or enjoy music in transport. His autonomy is also remarkable since it reaches 45 hours !
Normally available for € 249.99, the Asus ROG Strix Go BT gaming headset is available today for € 199.99 at Amazon.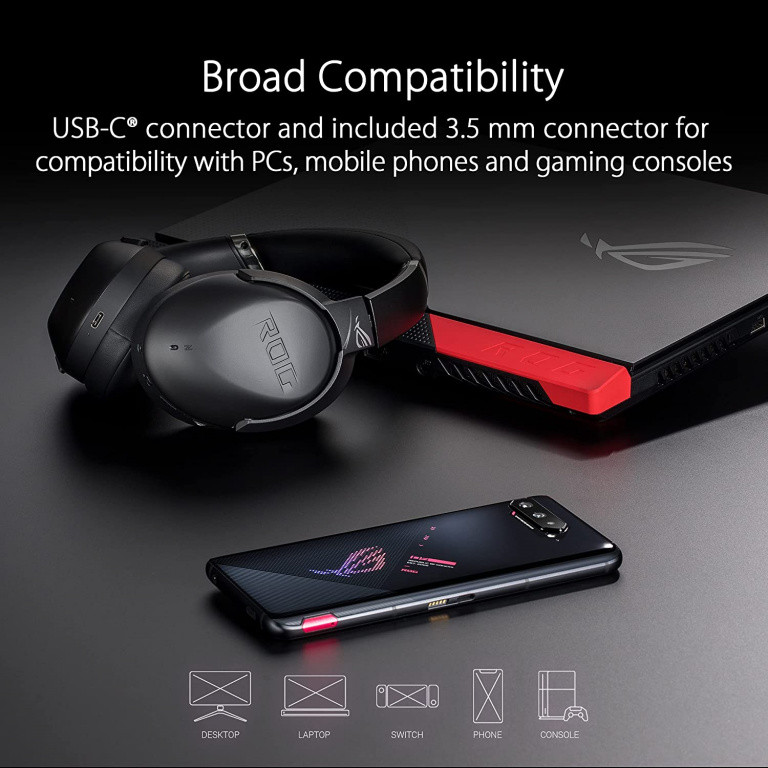 ---