With the spread of teleworking, sometimes 100% in some companies, and the ever greater growth of video games, we have never spent as much time sitting as in the past two years.
Suddenly we do less sport, we move less, we gain weight, our back hurts, in short, it's not the joy or the great form … And if in addition to that we are not perfectly installed in his chair with the time we spend sitting on it, it's the disaster, it's the disaster, it's the disaster ladies and gentlemen.
For too long, well until a certain age to tell the truth, we neglected this essential tool that is the office chair (or chair, or armchair, call it what you want). How many times have we recovered the old armchair of the big brother or the grandmother, all packed, half disemboweled?
Those days are over and the office chair must be the subject of a real choice and a real approach and that is why we offer you the ergonomic chair from Noblewell that can be found on Amazon for 119 € (remember to check the box "coupon 20 euros") instead of 159 €.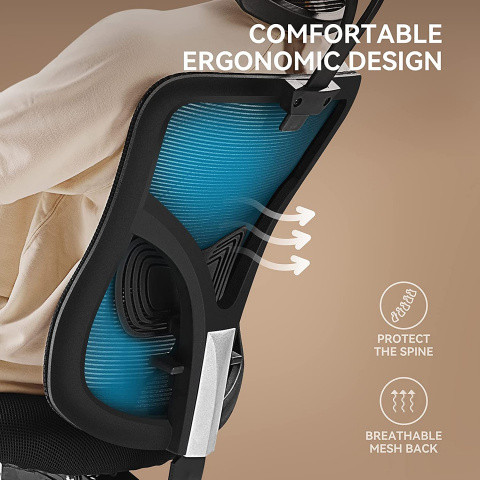 When it comes to talking about office chairs, in general two schools clash, the players on one side, attracted by the famous gaming chairs, and the others, more traditional, which are oriented towards office chairs. fairly classic. And in most cases, the difference is mostly aesthetic. We do not really know who decided one day that gamers should put their buttocks in armchairs, it must be said, often quite ugly, skimpy, straight out of a Formula 1.
So of course, among the plethora of models available we can find some to his liking, but we must recognize that this bias is still quite surprising. Suddenly, for a few years now, and even more since the first confinement, a chair model seems to stand out and gain consensus, the ergonomic chairs. It's a bit the best of both worlds put together, full comfort, lumbar support, headrest, breathable back, high recline, pleasant and comfortable fabric seat and above all, sobriety!
And that, the manufacturers understood it well, one only has to see the number of new models which appeared in the space of a year… But suddenly the competition lowers the prices, for our biggest happiness.
Normally available for € 159, the Noblewell ergonomic office chair is available today on Amazon for € 119 (after checking the box "20 euros coupon").
---