In the category of gaming mice, some are classics because they are known and recognized for their efficiency and quality. Originally released in 2014 as the G502 Proteus Core, the Logitech G502 is still a benchmark on the market today. Its technical performance is just perfect with its 25K HERO Gaming optical sensor that offers you maximum tracking precision. It equips a huge number of gamers around the world and you can trust Logitech for this product.
It is also the best-selling mouse in the world. This was revealed by Logitech Turkey Marketing Director: Birlo Sülük who said:
We're very happy to have the world's best-selling gaming mouse. We believe that the equipment of the players is very important for the development of the gaming industry both in the world and in Turkey, and we always continue our work to seek the most perfect. Source
You can easily adjust it to your use thanks to the five 3.6g weights that come with the G502 HERO to achieve the ideal balance. Its sensitivity is fully adjustable between 200 and 25,600 DPI and it has 11 fully programmable buttons for all your needs. Ideal in your favorite games to have quick and easy access to many features.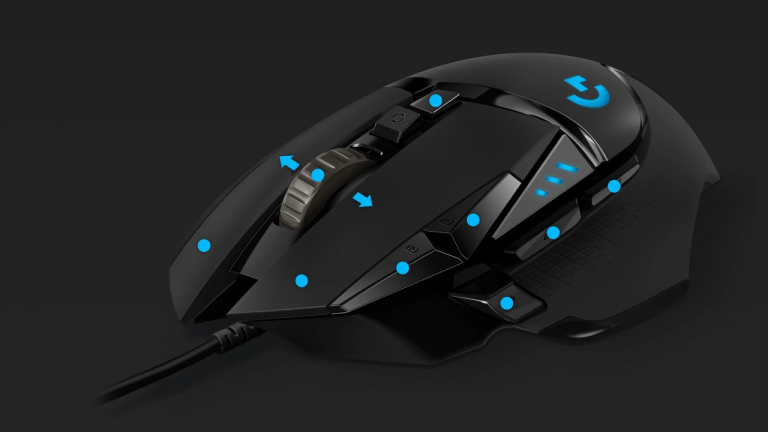 A little extra offered by Logitech, you can unlock the scroll wheel with one click to quickly scroll through the pages and lock it again just as easily for more precision. If we think of a simple basic gadget, we realize the use of real added comfort. This mouse is illuminated in RGB thanks to LIGHTSYNC technology. The backlighting is customizable and it is even possible to synchronize it with your other equipment of the brand.
Equipped with rubber side covers it is really comfortable, even in prolonged use. Equipped with a USB cable, this mouse weighs 121g. Its response time of 1 ms is minimal and that's perfect.