Flower
If there is one studio that has made minimalist but deep games its credo, it is thatgamecompany. If there is no clear and precise message in the games of Kellee Santiago and Jenova Chen, the two friends and their sidekicks manage to breathe a lot of emotion through simple titles without any real script. This was the case with flOw in 2007, then with Flower in 2009. The latter invites the player to control the wind to make a petal fly. In this game, no text. The narrative is formed only through these large green expanses that you cross and which transform as you pass.. It is a true ode to nature and the cycle of life. If Chen is defending himself from any ecological message, it is certain that the experience has something to change your view of the world. Some probably know it, it's also thatgamecompany behind Journey. A game that could at least as much have its place in our selection.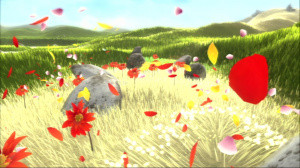 Happy Game
Contrary to what its title might suggest, to say the least, Happy Game is a psychedelic horror game. Despite fairly simplistic graphics and game mechanics (although the artistic direction stands out), Amanita Design's game is far more complex than it looks. Relatively unnoticed, this little independent game indeed offers an interesting exhibition of the various disorders and traumas that can torment the human mind, all in the form of a priori simply crazy nightmares. With its very particular and very disturbing atmosphere, Happy Game changes our perception of the human psyche, without the slightest dialogue or detailed scenario. This is why under these point'n click airs of classic psychological horror, this little independent is much deeper than it seems.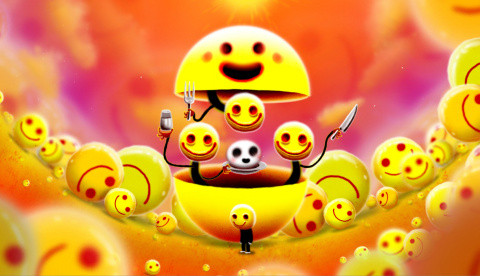 I am dead
After two minimalist projects as possible, the creators of Hohokum and Wilmot's Warehouse landed in 2023 with a title in the same vein: I Am Dead. Unlike the two games mentioned earlier in this selection, this puzzle-game follows a scenario. You play as Morris Lupton, the curator of the museum of Shelmerston Island, who has just withered away. He then discovers that a tragic accident will befall his island. With his ghost dog Sparky, he decides to do everything to prevent this disaster from happening. Throughout this quest, I Am Dead dissects life after death, the feeling of mourning and our relationship to memories. In short, this game published by Annapurna Interactive poetically analyzes our vision of life and death.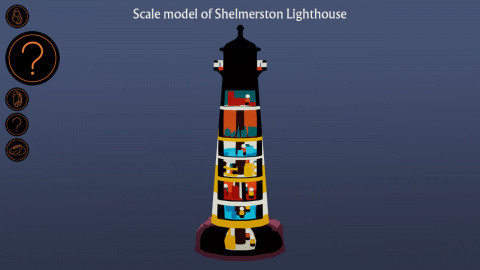 Kind Words
Developed and published by Popcannibale, this little independent game is one of the wholesome games. Kesako? Well the wholesome games are games that mean you good. In the latter, we forget any form of violence to immerse ourselves in a comforting and very cute atmosphere. Kind Words takes this idea to its climax by offering a simplistic but innovative concept. Against the backdrop of lo fi music, players are invited to write requests, that is to say letters allowing words to be put into their ailments. Letters to which other players can respond with encouragement or sympathy. Between cathartic power and mutual aid, Kind Words is a game of its own that doesn't offer much in terms of gameplay. And yet, its concept exudes benevolence, by dissecting the anxieties of its players to help them move forward. In the end, the message behind this simplistic game is that mutual aid can cure all ills.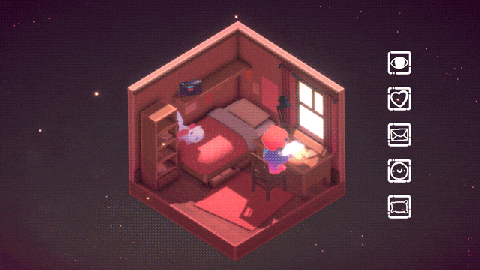 The Beginner's Guide
After The Stanley Parable in 2013 (who could also have appeared in our list), Davey Wreden offered a new atypical narrative game in 2015. His name? The Beginner's Guide. Even more basic than its predecessor, this new title is both short and simplistic. For an hour (or even an hour and a half), your only actions will be limited to walking or operating a lever. But like in The Stanley Parable, the important thing is not in the gameplay, but in the concept. In The Beginner's Guide, you take on your own role: that of a player. Through this ode to video game creation, you will discover the works of Coda, game developer. The game actually looks like a real museum, bearing a theoretical and psychoanalytic look at the gameplay and the development process, all commented on by the voice of Davey Wreden himself.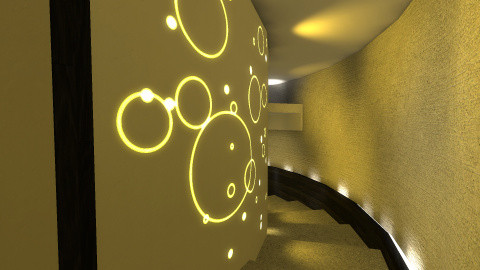 The Witness
If its at least basic graphics may put off more than one, it would be a mistake not to venture into the mysterious The Witness. Created by the designer behind the solid Braid (2008), Jonathan Blow, this exploration and puzzle game is baffling to say the least. In addition to its many well-thought-out puzzles, the title has a special aura, forged by a scenario not very present and which leaves room for all the theories. The story of The Witness is unveiled step by step through audio diaries scattered throughout the game. The idea was to be as evasive as possible so that only players who have solved as many puzzles as possible can understand what is wrong with them. united. For this reason, many people see The Witness a sort of allegory of learning. More so, this game carries a philosophical message, which everyone is free to interpret as they wish to give this monument of video games a second reading.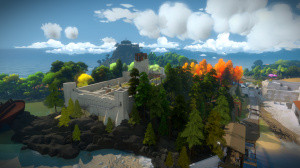 Thomas Was Alone
The title of Bithell Games is probably the most minimalist of the games tackled so far. Indeed, in Thomas Was Alone you do not play a character strictly speaking, but a Thomas, a little red rectangle that feels very lonely, which prevents it from evolving through the different 2D platforms of the world around it. To achieve this, he will have to make new friends and cooperate with them using their different abilities. Through this rather simplistic concept, Thomas Was Alone explores the history of the first sensitive AIs. They must not only explore their environment, but also discover their limits and the relationships they can have with others. Wider, this game questions the notions of sharing and friendship. So even the story of simple small rectangles can be vivid and moving. The end of Thomas Was Alone shows this wonderfully well.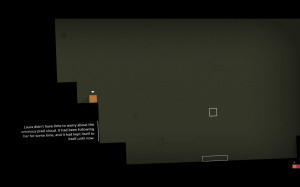 To the Moon
It is often said that you have to be wary of appearances. A perfect adage for To the Moon, which, despite what one might think, is more like a "visual novel" adventure game than a classic old-school RPG. And that's why it has its full place here, despite being one of the most elaborate games in this selection. Touching, this title takes us on a journey through the memories of an old man who is living his last days. In the shoes of Drs Eva Rosalene and Neil Watts, your goal is simple: explore this man's past so that he can live the life he always dreamed of. In search of the opportune moment, you then become witness to a touching story on the evolution of life (and of the couple) in the face of the vagaries that punctuate it. Contrary to the productions of the time, To the Moon is similar, through its deep and detailed narration, to titles like What Remains of Edith Finch.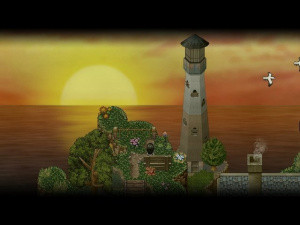 Unpacking
This one made about him a few weeks ago. Little unpretentious game, it had had some success, precisely because it was not as simplistic as it seems. The concept, however, did not have what many people dream of at first sight: a puzzle-game in which you have to unpack your things with each new move. But over the course of this relaxing activity (neither score nor count), Unpacking gradually unveils its emotional story. Because who says move, says change. Thanks to a well-mastered environmental storytelling, this little nugget of Witch Beam takes us by the hand to discover the different phases of the life of the character that we follow through his boxes. Phases that will probably speak to a large part of you. And Unpacking manages to do this without any real character or dialogue. A tour de force that makes it a surprisingly deep game.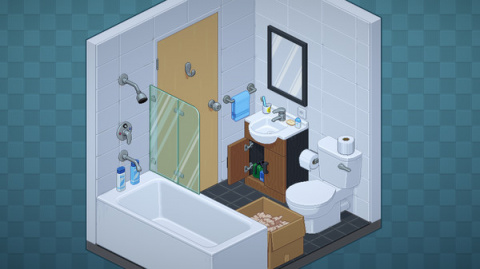 When The Past Was Around
We close this selection with an adventure game and point'n click puzzles: When The Past Was Around. If we forget its original artistic direction, the game of Mojiken and Brigitta Rena can seem quite banal at first glance. Indeed, we venture into everyday places to solve fairly classic puzzles and perform far from fantastic actions (drink tea, do laundry …). And yet, these are deep themes that are skillfully addressed in this game: love, detachment, feelings evolving over the course of a relationship or the need to sometimes let go and forget the pains of the past in order to move forward. Everything is carried by a soundtrack composed on the violin, which accompanies you throughout these questions as personal as they are universal.