Dysterra is a multiplayer survival game set in a post-apocalyptic futuristic world. Its gameplay is divided into four stages: collecting resources, resorting to crafting, building bases and, of course, fighting. Reality MagiQ studio promises full-scale PvP clashes as well as tough boss raids. To spice it up, it will also be necessary to pay attention to natural disasters. They will disrupt the game, and can sometimes turn the tide of an initially lost battle.
---
Hidden Deep is a 2D survival game that blithely flirts with horror. Moreover, to offer the most agonizing experience possible, the developers were inspired by the classics of horrific science fiction. We are thinking of films like Alien and The Thing. Coming back to our subject, the game literally "plunges" you into the depths of the ocean. You are part of a team tasked with exploring a seemingly empty underwater mining complex. In truth, the latter is invaded by abominable bloodthirsty creatures. If, however, you'd rather brave the horrors of Hidden Deep together, you can, but only in Challenge mode.
---
STALKER 2: The Heart of Chernobyl is the fourth installment of the franchise which began in 2007. This license revival, which is also a Microsoft exclusive, is surely one of the most anticipated games of 2023. Such an expectation is not surprising given the popularity old titles from GSC Game World. His inspired post-apocalyptic universe aroused a real craze from the release of the first episode. A universe which is also reminiscent of that of another popular license, Metro. While it is true that it is above all an adaptation of a book, we must not forget that 4A Games, the creators of the license, was initially part of the development team of the first STALKER
STALKER 2: The Heart of Chernobyl trailer
---
5 years ago, a studio called Neostream launched the project Little Devil Inside. Last October, the release date was finally announced. This action-adventure game promises a memorable experience. His singular artistic direction was the first thing players noticed, who were later drawn to his ingenious formula that drew more from RPGs than survival. A colorful world juggling the real and the fantastic awaits you, but beware, because even in such an environment, danger is never far away.
Little Devil Inside trailer
---
Nightingale is of course another survival game, developed in this case by veterans of Bioware (Mass Effect, Dragon Age). This kinship was enough to give rise to a particular interest among the players. The classic codes of the genre will be in the spotlight: exploration of a vast world, construction, craftsmanship and clashes against imposing monsters. As for the artistic direction of the title, the studio has opted for an original mix of fantasy and Victorian style. The title of Inflection Games can be walked alone or with others, although it is strongly recommended to find allies in order to survive.
---
Previously, we mentioned the cult license STALKER Its unique universe has not failed to inspire many developers and influence their own creations. This is the case of the GFA Games studio with Pioneer. The action takes place on an island that has become the scene of strange events. This is how alone or in cooperation, you will have to venture there, collect materials, build your base and accomplish different missions. In short, you have to survive and thrive. In addition to its cooperative mode, the game also has an online multiplayer highly recommended to overcome certain challenges.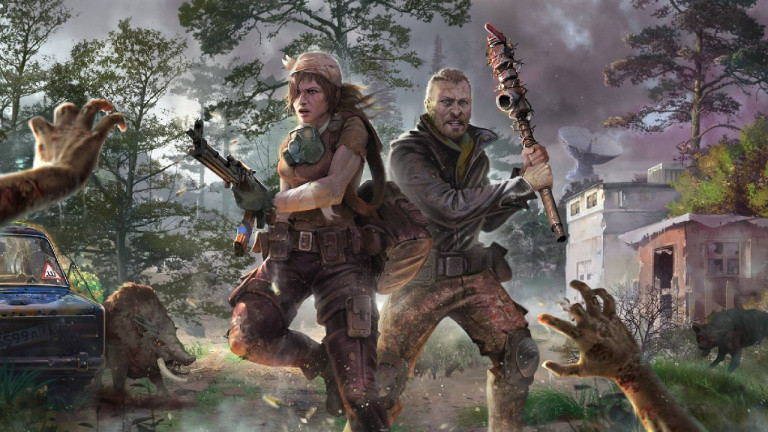 ---
Sons of the Forest is the sequel to the famous The Forest released in 2014. At the time, players rushed to this new production, symbol of an innovative survival game. It was a success, and the final version released in 2018 offered a nice conclusion to this adventure. Next year, the formula gets a new lease of life, and brings its share of changes. Among other things, players will now have access to a host of new weapons and tools designed for survival. More classic elements will of course be back, such as the famous inhabitants of the forest who do not welcome your presence in their territory.
Sons of the Forest trailer
---
If a concept that fuses open-world MMO and universe inspired by The Last of Us tempts you, you should look into The Day Before. The goal is simple. Adventurers are invited to survive and evolve in an America torn apart by a pandemic. So, like a The Division, you will have to glean resources, build colonies and watch out for the living dead that roam the map. However, as with so many stories in this genre, zombies are far from the only threat. Therefore, beware of other players and the alliances you are going to form.
---
We end with a game that departs greatly from those present in this selection. Unexplored 2: The Wayfarer's Legacy is an action-RPG in top view integrating mechanics from another genre … the Rogue-like. This implies in particular a procedural generation of the terrain and the dungeons, but above all a permanent death for each of your characters. However, like Rogue Legacy, an inheritance system will allow you to recover part of your progress. The full version will arrive in 2023, but you can already try your luck with early access on the Epic Games Store.
---