If you've been keeping up with tech and gaming news in 2023, the ROG Flow Z13 concept shouldn't be foreign to you. It is based on the principle of ROG Flow X13 and ROG XG Mobile, a solution that we had the pleasure of testing last March.
This involves connecting an ultraportable to a box containing a GeForce RTX graphics card or a Radeon RX 6000 in mobile version.. In a few seconds, we therefore find ourselves with an ultra-powerful computer. The box, named ROG XG Mobile, also offers several connections, including USB, HDMI and DisplayPort to connect everything to a screen. The idea is therefore to have a machine to take everywhere to work and, once at home, an easy-to-use docking station to play in the best possible conditions.
This attractive concept returns at the start of the year, with a new design that is even lighter and more transportable. The ROG Flow Z13 thus opts for the "tablet + detachable keyboard" format, like a Microsoft Surface. But the Z13 is much more powerful than a Surface, since it accommodates a GeForce RTX 3050 Ti, in addition a latest generation Intel processor, a maximum of 32 GB of LPDDR5 5200 RAM and a 1 TB SSD. In short, with this configuration alone, you can comfortably play recent games in 1080p. Tablet format requires all of this. weighs only 1.1 kg without the keyboard and 1.45 kg with it Note that the detachable keyboard will be supplied as standard.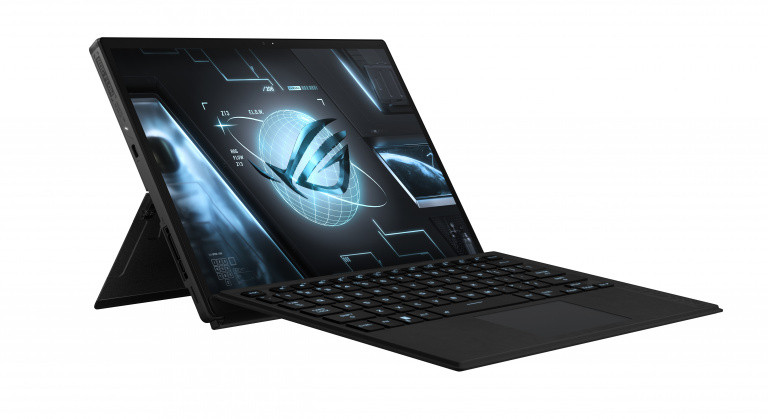 In terms of screen, we are dealing with a 13.4-inch IPS panel in 16:10 format, available in two versions: Ultra HD definition at 60 Hz or Full HD definition at 120 Hz. In both cases, Asus claims a nice maximum brightness of 500 cd / m2. The connection is quite complete for a product of this type: 1 Thunderbolt compatible DisplayPort 1.4, 1 USB-C also compatible DP 1.4, 1 USB-A port, 1 HDMI 2.0 output, an SD card reader and an output / Jack input for audio. WiFi 6 is of course there.

There is also a proprietary port dedicated to connecting to ROG XG Mobile. Activation of the box is done on the fly and does not require restarting the computer. In addition to a dedicated GeForce RTX 3080 or Radeon RX 6000 graphics card, the box offers 1 HDMI, 1 DisplayPort, 1 Ethernet port, 1 SD card reader and 4 USB-A ports.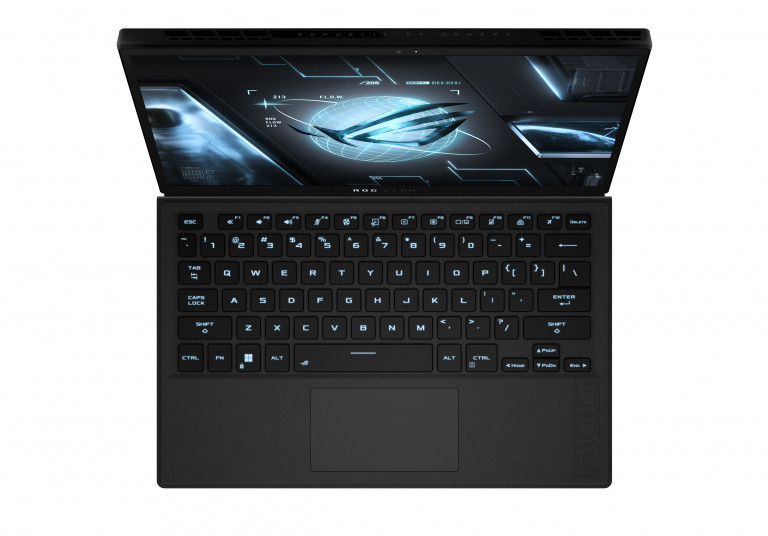 ROG Flow Z13 will be available for sale in Q1 2023 and priced from € 1,499. The ROG XG Mobile case is sold separately, also at € 1,499. Asus specifies that a bundle including a Z13 and an XG Mobile will be offered, but the price is not yet known.
---