Talking about a screen as being THE best in the world is very engaging. However, the expression is not used indiscriminately, it is weighed, measured and … almost objective. Why ? Because the G9 is a multi-award winning display.
Despite its release in 2023, the Samsung Odyssey G9 recently received a prestigious award: the award for the best screen in the world at the European Hardware Awards 2023. Also in 2023, the G9 received the best design award from the iF Design Award. In 2023, he is the "Top Choice for 2023" of AVS Forum, the Editor's Choice of Techaeris and above all, the big winner of the "Trrusted Reviews Awards". Boom.
We will detail the characteristics of the machine a little below but remember that it was launched at a price of 1500 €. For a 49-inch curved screen (which is really very very large … well, especially very very wide) of this caliber, that's a normal price. But right now, Amazon is offering the G9 to € 1249.
On top of this nice reduction, Samsung adds an additional € 100 with a refund offer (ODR). This additional promo is not applied by the merchant, Amazon, but by the manufacturer, Samsung, which wants to boost word of mouth for its flagship products. After your purchase, fill out a quick online form on the Samsung site (just provide proof of purchase), then, some time later, you will receive a transfer of € 100 from the Korean brand.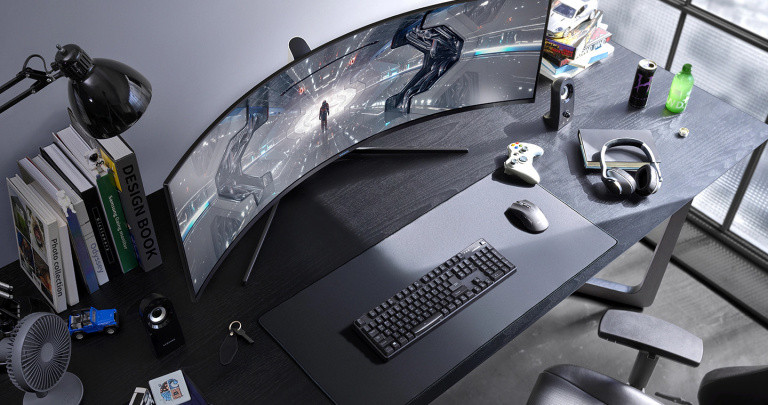 Why have 2 or 3 screens around you, when you can have just one giant? Difficult to do more immersive than the slab 49 inches, or 125.46 cm diagonally, the Samsung Odyssey G9. A word of advice: if you fall for this screen, clean your desk well.
Of course, it's not just the size that matters, everyone knows that. Even if the 49 inches are a big part of the price and quality of the G9, this screen has a lot of other advantages.
First, his maximum resolution of 5120×1440 pixels. The image will be sublime. Especially since this resolution comes accompanied by technology QLED commonly found in high-end Samsung televisions. The idea of ​​QLED is to miniaturize the backlight diodes and control them using AI to increase contrast and color rendering. It is bluffing.
Okay, fine, but with a large slab and a pretty picture, we especially want to watch movies. What about gaming?
Gamers are looking for two characteristics above all on a screen: the response time of 1 ms and the frequency of 144 Hz. The G9 goes further. It does have a response time of 1 ms, which allows an almost instantaneous reaction to the slightest movement of the mouse, but above all it has a 240 Hz panel. This allows extremely smooth game rendering, each frame will be clearly displayed.
This configuration is supported by the presence of Adaptive-Sync technologies, Nvidia G-Sync and AMD FreeSync Premium Pro. This allows the monitor to synchronize with your graphics card. Thus, you will avoid the phenomena of stuttering, blurring and tearing of the image.
In addition to that, it is possible to connect a lot of devices. Thus, there are two DisplayPort 1.4 ports, one HDMI 2.0 port and two USB 3.0 and a 3.5mm jack output.
What more ? With such a configuration, we recommend that you have a particularly efficient setup., especially at the level of the graphics card.