Since then, numerous leaks have reinforced the rumor born from the search of the game cache, and it seemed more than likely that an event was planned with the famous anime from Hajime Isayama's manga. On January 9, part 2 of the anime's final season was released, but Activision did not announce anything, dampening the hopes of the fans.
But it was only to better emerge and formalize the arrival of a pack entirely dedicated to the anime The attack of the Titans, which will land shortly after the first major update of the year, for both Call of Duty: Vanguard and Call of Duty: Warzone. If you play Vanguard, a preparatory update should already be available, but we will have to wait until 6 p.m. tomorrow to retrieve it from Warzone. On January 13 in the late afternoon, the mid-season update should be rolled out, and will add in particular a new operator (Isabella Rosario Dulnuan Reyes), a new weapon (the Welgun SMG), more content for Zombies mode, bug fixes, and "more".
Give your heart, soldier! Attack on Titan crosses with Call of Duty in the Levi Edition Bundle. See the stylish items in action: https://t.co/dYTams4ozX pic.twitter.com/SARTqEkYJl

– PlayStation (@PlayStation) January 11, 2023
For his part, the content pack dedicated to the Attack on Titan will be available from January 20, against the sum of $ 19.99, or 2400 CP. Named Tracer Pack: Attack on Titan – Levi Edition Bundle, it will be, as its name suggests, dedicated to the captain of the tactical squad of the exploration battalion. Inside, players will find 10 items, including a skin for operator Daniel Yatsu, weapon blueprints for the Historia-SMG, the Ymir Curse assault rifle and the Titan Piercer double-bladed blades. Everything is accompanied by a Secret Keeper asset, a sticker, an emblem, and two animations and a finish move also dedicated to the Attack on Titan. If you decide to buy this pack, however, note that the Ultrahard Steel and Vertical Maneuver animations are exclusive to Vanguard.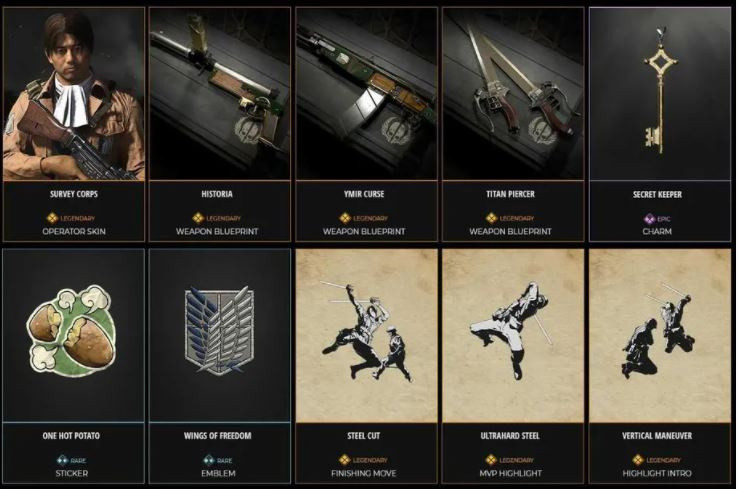 ---