Mixture of improbable universes, this cross-over between The Legend of Zelda and Cyberpunk 2077 has something to dream about. This is the artist Gray_Shuko who imagined the merger with two illustrations. He draws Link, the main hero of The Legend of Zelda saga, in two different colors in a Cyberpunk-themed pageantry.. The drawing is titled CyberLink, in the same font as Cyberpunk 2077. We then dream of a fusion of the two universes. This is not the first time that the artist has taken part in this exercise. On his ArtStation page, he has already published a artwork featuring a mix between Street Fighter & Overwatch.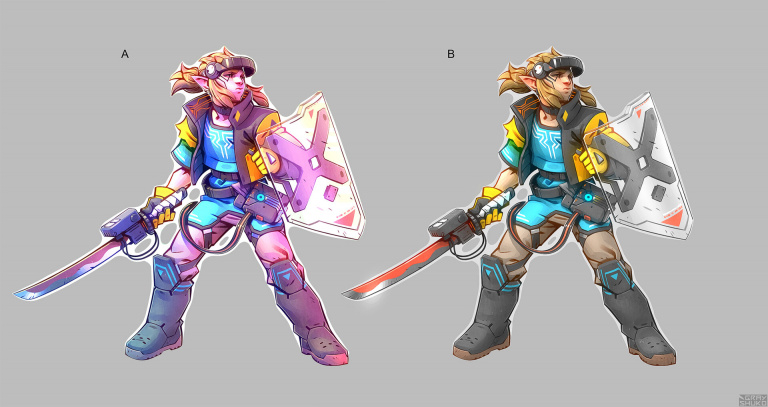 He is also not the only one who imagines what characters from one universe would look like in another world. The day before yesterday, we spoke to you about Ameen: this artist redesigned the characters of Demon Slayer in The Witcher way.
These designers, each more creative than the next, are inspired (or give inspiration?) From crossover always more crazy to appear in the world of video games. As recently as today, a crossover Between the attack of the Titans and the license Call of Duty has been formalized: on the program, a set of cosmetics from the world of Hajime Isayama manga. Levi's outfit for Operator Yatsu, and plans for guns in the names of characters in the universe.
Give your heart, soldier! Attack on Titan crosses with Call of Duty in the Levi Edition Bundle. See the stylish items in action: https://t.co/dYTams4ozX pic.twitter.com/SARTqEkYJl

– PlayStation (@PlayStation) January 11, 2023
To conclude, it's hard to miss the Fortnite fury: Epic Game's battle royale is very popular. One of the reasons for its success? The multiple outfits and cosmetics from many pop-culture universes. Almost everything goes there: Star Wars, Ariana Grande, Naruto but also Marvel! More than outfits, they are sometimes entire elements of gameplay. Evidenced by Spider-Man's web launchers, allowing players to emulate Peter Parker and roam from tree to tree.
Read also :