For the moment, we do not know when the film will be released. Dragon Ball Super: Super Hero will be visible in the rest of the world, even if a chain of cinemas in Thailand mentions the date of June 2, 2023.
Sequel to the 121-episode anime and movie Dragon Ball Super: Broly, which was better received by the public than by the critics, the film hasn't revealed almost anything about its plot yet. We know that Akira Toriyama has been thinking about it for a long time, that Piccolo could be at the heart of the scenario, while Goku, Krillin, Bukla, Gohan, and Vegeta should add some action to the mix, and than a new character should be introduced.
Directed by Tetsurō Kodama while the animation is entrusted to Chikashi Kubota and his team, Dragon Ball Super: Super Hero begin to be endowed with goodies, as indicated on the DBZ.com site. The opportunity to see some of the characters who will logically appear in the feature film, like Broly, Gohan, Ultimate Gohan, Pan, Krillin, Piccolo, Gamma 1 and 2, Goku and Vegeta.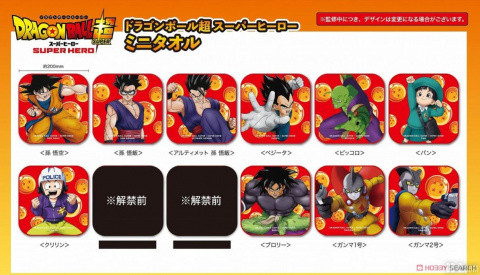 For the moment, we find mouse pads and key rings, but there is no doubt that other products (we think of figurines) will arrive shortly. Our colleagues also point out to us that Gohan's appearance is very close to the one he had in the Cell arc from Dragon Ball Z, possibly suggesting a return of the character to full power. Toriyama, without saying more about the story, asks fans to prepare to see "extreme and entertaining combat".
Finally, we know that the film will retain an animated style, but that it will be entirely made in computer generated images. A prospect that displeases many fans. However, let's wait for the release of the film to get an idea. If the production was organized in the same way as for Dragon Ball Super, the film should reaching us a few weeks after the Japanese release.
---