If you are looking for a relatively compact laptop (and not a huge transportable one) that comes with enough to run games in a pretty decent way, we may have found what you need. Indeed, the ASUS F15-TUF506HC-HN060T offers a nice package in a rather complete chassis, even if we stay on mid-range equipment. Obviously plastic in view of the price, this 15 "laptop displays an honest 2.3Kg on the scale, which does not really make it the nicest model to carry, without however damaging your back at the end of the day. .
The advantage is that with a slightly higher weight, we have a fairly complete configuration. We therefore benefit from a rather honorable 15.6 "FHD (1080p) 144Hz panel (fans of competitive games will appreciate) which is powered by a dedicated Nvidia GeForce RTX 3050 graphics card equipped with 4GB of GDDR6. This relatively recent model replaces the old 1650Ti and offers the advantage of being particularly energy efficient, while making it possible to take advantage of new technologies such as ray tracing, but especially DLSS (which will be very useful on this type of machine).
At the heart of the beast, we retoruve a quad-core Intel Core i5 11300H which runs at 3.1Ghz (4.4Ghz in boost) and which is supported by 8GB of RAM, knowing that a second slot is empty in order to easily switch to 16 Go by adding a 2933Mhz SODIMM bar. If you ever want to replace everything, know that the computer will accept up to 32GB of RAM. For storage, ASUS has chosen a 512 GB M.2 PCIe 3.0 SSD, knowing that here again, an M.2 slot is left free to add capacity. Equipment level, we retoruve a front 720p webcam for videoconferencing, an integrated microphone, as well as stereo speakers.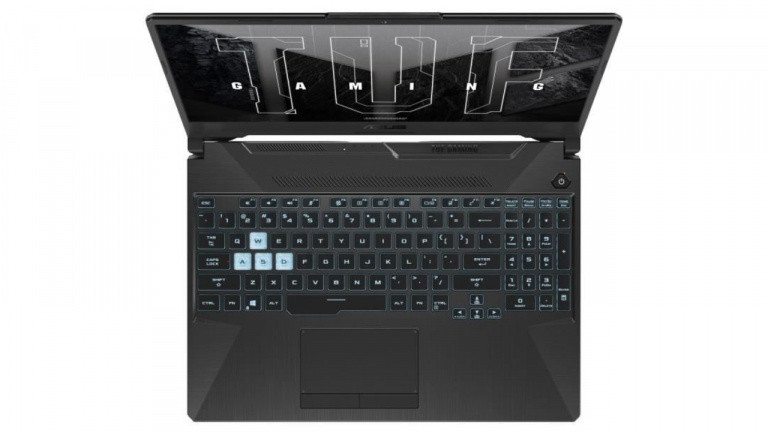 Regarding the connection, the large chassis can accommodate a lot of sockets, with a 3.5mm jack, an RJ45, an HDMI output, 3 USB 3.2 Gen 1 ports, a USB 4 port (Thunderbolt 4, DIsplayPort Alt) and a UCB-C 3.2 Gen 2 port (which also supports a DisplayPort adapter). This PC is sold with Windows 10 Home edition, knowing that an update should allow you to upgrade to Windows 11 from the computer connected to the Internet.
---