Today, you may have noticed that version 2.4 of Genshin Impact is available. And in addition to Shenhe, another character, 4 stars and Geo " ', is available. Does it deserve your primo-gems? Are you going to visit the new island with her? Let's see how to optimize it and if it can be useful for you.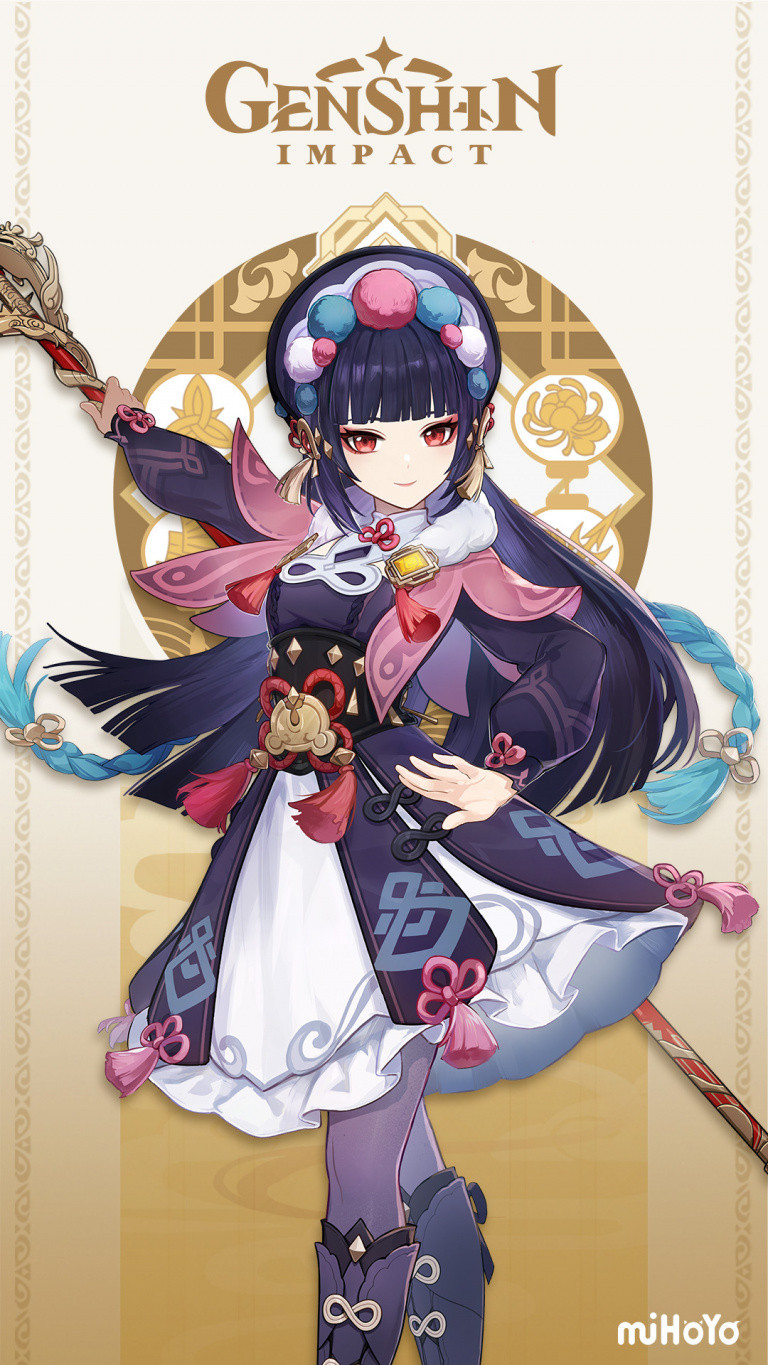 Organic
An iconic figure in Liyu opera, Yun Jin is famous for his soft voice and elaborate costumes, as well as his lively and emotional performances.
Yun Jin Ascension Materials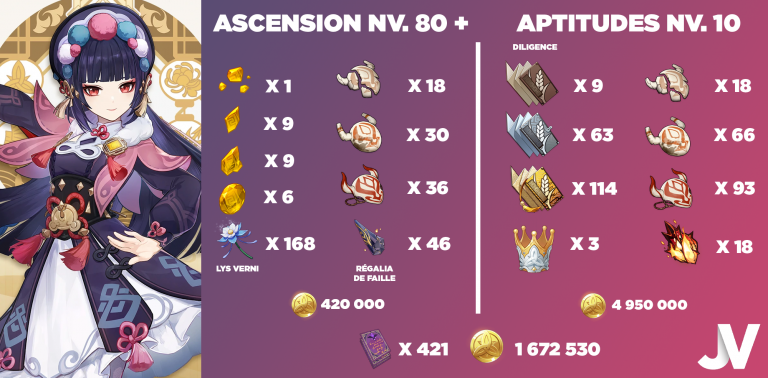 Here is the list of materials needed to raise Yun jin at level 90:
| Materials | Where to find them? |
| --- | --- |
| 1x Shard of prithiva topaz | On the boss "Geo Hypostasis", the "Ancient Geosaur" … |
| 9x Prithiva Topaz Fragment | On the boss "Geo Hypostasis", the "Ancient Geosaur" … |
| 9x Piece of Prithiva Topaz | On the boss "Geo Hypostasis", the "Ancient Geosaur" … |
| 6x Prithiva Topaz Stone | On the boss "Geo Hypostasis", the "Ancient Geosaur" … |
| 18x Damaged Mask | About Brutocollinus |
| 30x Dirty Mask | About Brutocollinus |
| 36x Grim Mask | About Brutocollinus |
| 168x Varnished Lily | You will find them in Liyue |
| 46x Rift Regalia | Loot of the Golden Alpha Wolf |
| 420,000 Moras | x |
Talent Upgrade Materials for Yun Jin
Here are the materials necessary to pass your 3 skills level 10 (Note that in very few cases, a character needs to be level 10 on his 3 skills).
| Materials | Where to find them? |
| --- | --- |
| 9x Diligence Teaching | Inazuma Dungeon |
| 63x Guide to Diligence | Inazuma Dungeon |
| 114x Philosophy of Diligence | Inazuma Dungeon |
| 18x Damaged Mask | About Brutocollinus |
| 66x Dirty Mask | About Brutocollinus |
| 93x Grim Mask | About Brutocollinus |
| 18x Cinder Heart | Loot on boss Signora |
| 3x Crown of Wisdom | Various events |
| 4,950,000 Moras | x |
Skills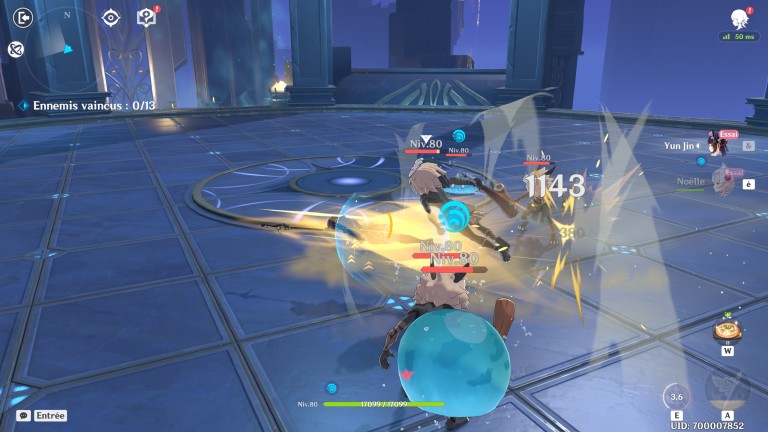 Open blooming
When you release the skill, the duration ends, or the shield is destroyed, Yun Jin unleashes the stored energy as an attack, inflicting damage DGT Geo. Depending on the time spent charging, a 1st or 2nd charge attack will be triggered.
Cliff Breaking Banner
Inflicts DGT Geo area and grants cloud banner formation to all nearby team characters.
Passive skills
Optimized nutrition
12% chance of getting an extra dish when cooking a perfect dish that affects exploration
True to oneself
When Yun Jin uses Open Blossoms at the exact moment she is attacked, she unleashes her 2nd charge.
Rejection of agreements
When the team includes characters of 1/2/3/4 elemental types, the normal attack damage bonus Granted by Cloud Banner Formation further increases by a value equivalent to 2.5% / 5% / 7.5% / 11.55% of Yun Jin's DEF
Constellations
Gallop vaudevillesque
Reduces the cooldown of Open Blossoms by 18%
Myriad of accessories
After using Cliff Breaking Banner, Normal attack damage of all nearby team characters is increased by 15% for 12 seconds.
Maritime flag
Skill level Cliff Breaking Banner +3
The edge of a flower
When Yun Jin triggers a Crystallization reaction, his DEF increases by 20% for 12 seconds.
Celebrity Across The Land
Skill level Open blooming +3
Aesthetic harmony
When a character is affected by a Cloud Banner Formation, the Attack SPEED of their normal attacks is increased by 12%.
Which set and which statistics to favor?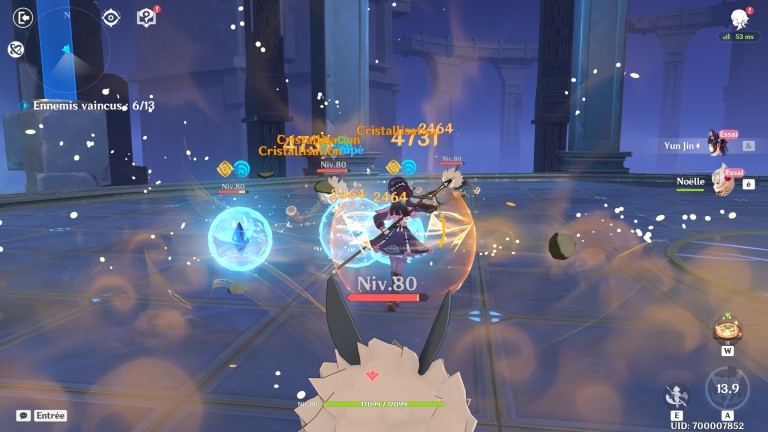 In terms of its artifacts, you have two choices:
For weapons, we strongly recommend the Spear of Favonius, which will allow it to partly compensate for its greatest flaw: Its generation of elementary particles and its Energy recharge. You can also choose the Stellar Polearm (prototype) which will be a little worse, but which you can at least craft.
On the statistics side, here are the main ones on the 3 coins to have:
| Piece of equipment | Main statistic |
| --- | --- |
| hourglass | Energy recharge% |
| Chopped off | DEF |
| Helmet | DEF |
For statistics in general, Yun jin mainly relies on 2 things:% DEF and Energy Recharge. Everything else is secondary.
Should we summon Yun Jin?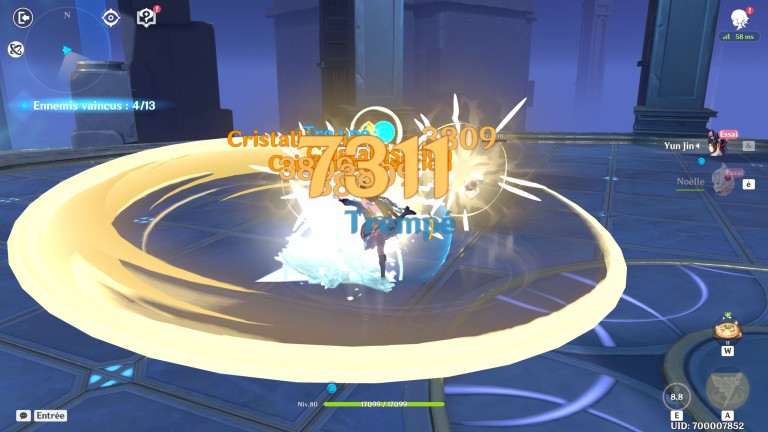 You have to understand its role first. Yun jin is a support, which will be able to enter certain team compositions, and thus improve their damage (depending on its DEF). It can also improve damage even more depending on the number of different elements in your team.
It can therefore be used as support in different teams, but also in a 100% Geo team with for example Noelle, Albedo and Gorou. It is a very effective composition, and all the more so if your Yun Jin awaits his last constellation. She also shines with characters like Yoimiya, Razor, Rosaria ……
But the big question is this: Can she do better than Bennett ? And the answer is … yes, as long as you have the right team. Namely a team with a character who mainly does damage through normal attacks. It therefore remains relatively niche, and on the other hand does not have the "I go where I want" side of Bennett.
One of the other advantages of Yun jinis that it does not need great equipment to be effective. DEF and Energy Recharge and you're done! We therefore recommend it if you need support for your Hypercarry which is played mainly on the normal attack.