OLED technology has arrived like a hurricane in the tech world. Today, all high-end products are equipped with it on smartphones, Nintendo Switch, connected watches, and, of course, 4K TVs. This small revolution is, in our opinion, even more important than the democratization of 4K resolution compared to Full HD.
In this recent market, several players are fighting each other and it would be a mistake to think that all OLED panels are equal. Philips, one of the most serious challengers thanks to its in-house technology called Ambilight (we will come back to this), has found its flagship model: the Philips 935. If you don't have the space or the means for a huge 65-inch screen at over 2000 €, the 48-inch version (121.92 cm diagonal anyway) is currently available at a reduced price!
Even if it was launched at a very high price (OLED + soundbar included), the 48-inch version of the Philips OLED 935 has become easily found around € 1,200. Today, it goes to 1049 € on Son-Vidéo.Com! Yes, it's still a nice 4-figure sum. But given the quality of the machine, there is little chance that you will regret the slightest penny. For us, the promo is worth it.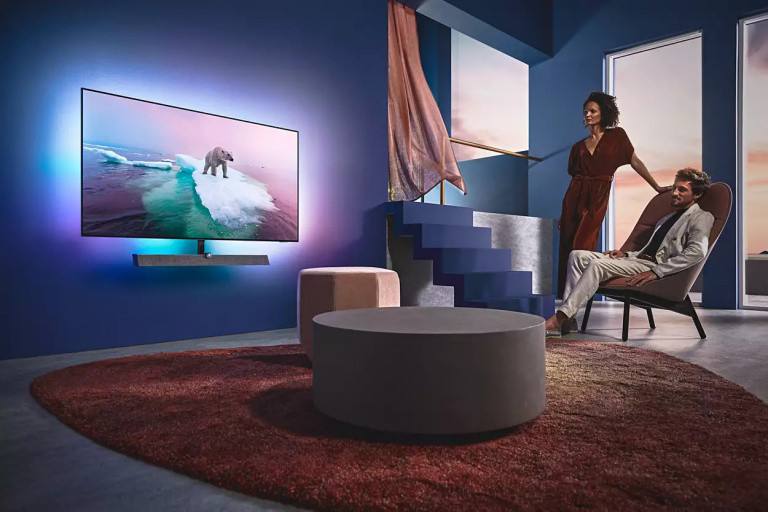 Let's start with a brief reminder of the major technologies of this TV: OLED and Ambilight. An OLED panel has the particularity of not needing backlighting: a black pixel is therefore an off pixel. The image depth is therefore particularly stunning and the contrast literally infinite.
Ambilight is a technology invented by Philips, the world leader in connected light with its famous Philips Hue bulbs. The principle of Ambilight is to strongly reinforce the spectators' immersion thanks to .. an LED strip. The AI ​​in the TV constantly analyzes the image displayed on the screen and illuminates the back of the screen accordingly. Basically, if a red lightsaber goes through the left edge of the screen, that same left edge will project red light behind the TV. The feel of Ambilight is quite difficult to describe but people who have tested it are pretty much unanimous: the effect is impressive.
Another notable point: this TV is accompanied by a soundbar signed Bowers & Wilkins. No need to break the bank a second time to improve this key point: it will already be excellent. The bar propels your living room a particularly wide and deep 3D rendering. As for the image which improves Full HD content in 4K renderings (we call that upscalling), this bar spits out a dapper version of the sound source.
If you are looking for a TV to play on PS5 or Xbox Series, this is a great candidate. HDR10, HDMI 2.1, VRR, ALLM and 120 Hz screen guarantee you the best possible picture and games in 4K 120 FPS. What more ? Nothing.
Finally, it is a connected TV crammed with a bunch of very useful applications. Thanks to the 4-sided Ambilight (many TV Ambilights are only on 3 sides), the premium Philips OLED panel, and compatibility with HDR10 + or Dolby Vision, it is perhaps on this side that this sublime gear shines the most. Your series and films on Disney +, Betflix, Amazon Prime Video, OCS or anywhere will be accessible very easily and above all more beautiful than ever.