On the product page you can choose between three different model generations. In other words, if you want to have the best of the best, you have the choice, either 13 € for the Gen1 or 17 € for the Gen4. They all allow your controller to fully charge in about three hours. You have two slots for DualSense controller. If you have more than one, you can simply put the second on it while you play with the first. A small colored light will let you know whether the charge is complete or not.
The third generation model benefits from a more compact design, if you want to save space on your TV stand. You plug the USB-C cable into the back of your PS5 and connect it to the dock, and that's it, no need to connect the controllers directly. Moreover, if you fear that this kind of practice will damage the batteries of your little jewels, this is not the case because an integrated chip protects DualSense against overcurrent, over voltage, overheating, short circuitin short, you can use it with your eyes closed. You can leave your controllers on it, or even store them there, it won't be a problem.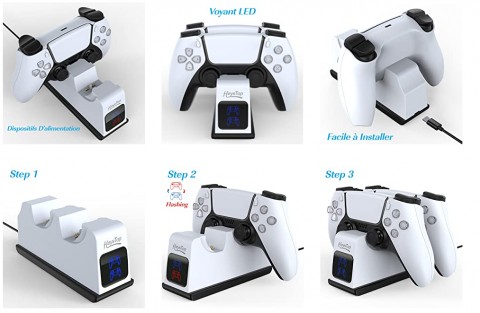 Small weak point of the product if you have to find one: it is only available in white color. If you have black controllers, chances are that it swears, but hey, that will not detract from the technical virtues of the device. It will simply blend in less well with the surroundings.
If you know someone who will soon be purchasing the latest Sony console and are looking to give them a little gift that they are sure to be happy with, you are not really taking a risk with this type of device. that any hard-working gamer will appreciate. This is probably the cheapest charging dock for PS5 on the market, so for a product that does the job, at this price we do not hesitate.
---