Traditionally, and since 1953, the Hugo Award – or Hugo Award, in the language of Shakespeare – is a prestigious literary award given to works of Science-Fiction and Fantasy. This weekend, the ceremony dusted off its formula by inaugurating a major novelty, namely rewarding the best video game for the 2023 edition. because until now, video games and their stories did not compete.
The addition of the section " Best Video Game Is exceptional for the literary award. However, the committee behind the organization of this award ceremony has been considering establishing such a category for several years. In the list of nominees, there are games that marked the year 2023, such as Spiritfarer, The Last of Us Part II, Hades, Animal Crossing: New Horizon or even Final Fantasy VII: Remake.
Note that if the category has exceptionally been introduced with the 2023 edition, the game is raised to the same rank as the works awarded during the event evening. By winning this award for the first time, the game in question has not only marked the new format of the Hugo Prize but also the history of video games in its entirety. Already rewarded many times for its qualities, the game in the spotlight is… Hades from Supergiant Games, rewarded for its high quality narration and dialogues!
Very honored with this new and prestigious award, the creative director of Supergiant Games and also a screenwriter on the studio's latest project, Greg Kasavin, spoke on behalf of all the teams at work on Hades. In addition to thanks to individuals, the creative director also took the time to thank, with amusement, the Greek gods who particularly inspired them.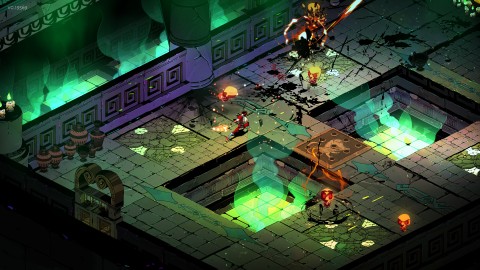 We are incredibly honored to be the very first Hugo Award winner in the Best Video Game category (…) to have achieved this distinction after all this time, especially alongside such an incredible list of nominees. , games of all shapes and sizes, teams big and small, really means a lot.

Video games have come a long way over the years, these are really unique as a medium because they are interactive and you can really inhabit one of those fantastic worlds and see how it reacts to your every move.

At Supergiant, we've tried to marry the lore of fantasy, science fiction, and literature with this unique interactive component and create those worlds that feel alive when you navigate them. We are very grateful that our work on Hades has stood out in this way and we hope that the Hugo Prizes will continue to recognize the incredible work done in this area. – Greg Kasavin, Creative Director at Supergiant Games