Backed by Sony, Abandoned is questioning the public, who are wondering if this is really a game in development, or a baseless project that will end up being canceled. At the moment it is hard to know what to expect with this PS5 exclusive.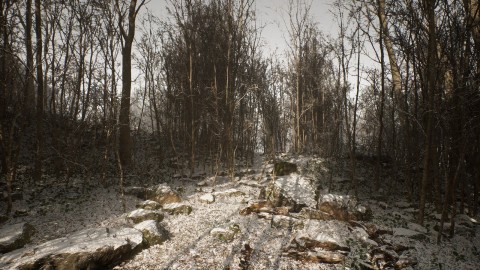 Officially, Abandoned is still a game mixing shooting and survival, in which we play a character lost in a strangest forest. For Christmas, Hasan Kahraman came out of his silence to give some news of the game, indicating that a Technical demo of the title should be available early 2023 within the Realtime Experience app. This should allow players to be reassured on the one hand, and to show how the studio integrates the features of the DualSense to his game.
Equally, the prologue of the title could arrive quickly after this demo, that is to say somewhere in the first quarter of 2023, but the conditional is in order. Unfortunately, the controversy surrounding the title resulted in a wave of harassment, suffered by developers from the studio. Blue Box Director Hasan Kahraman once again apologized for the mistakes made, while asking the audience to calm down, and keep in mind that it is not a triple A with disproportionate ambitions.
Ppl really need to calm down .. the toxicty is really creating a lot of pressure and stress. I get it you are pissed, but we're working hard to deliver something you can enjoy. And that takes time. Sorry but this had to be said ..

– Hasan Kahraman (@HasanEKahraman) December 26, 2023
People really need to calm down… Toxicity creates a lot of pressure and stress. I understand that you're pissed off, but we're working really, really hard to come up with something that you can enjoy. And it takes time. Sorry that had to be said… PS5 users feel ripped off because they received a 5 second teaser, for which I deeply apologize on behalf of myself and BLUE BOX, I can truly understand that. But there are a lot of people who complain but don't have a PS5.

And yes, BLUE BOX and I are independent and you shouldn't expect AAA game. Redefine your expectations. Yes we want to do it our way and of course we haven't done it well but we are working on it. If you feel like you've been scammed or whatever, I really, deeply apologize. This is not my intention and I did not want any of this to happen. All I ask everyone is to relax, calm down and wait. It will come, I promise you, but wait. (…)
---