It's never too late to reveal upcoming plans for 2023. Earlier in December, Adidas and Marvel's Guardians of the Galaxy game revealed a textile collaboration: six pairs of shoes will arrive at the first part of 2023.
A collaboration that makes sense for both parties: Bruno Gauthier Leblanc (Artistic Director at Eidos Montreal) explains that at the start of the creation of the character of Peter Quill, it was obvious that the character had to wear a pair. of Adidas shoes. An idea that gained ground, until the game team dreamed of creating a real pair of shoes. The project appealed to Marvel, who spoke directly to Adidas:
When we spoke to the Marvel team and learned about the game, we thought about how to bring the characters to life through their shoes and drew models accordingly. – Tony Holmes, Product Manager at Adidas
To support their point, Adidas explains not to offer the same model through several colors, but to grant a hero with his own and unique pair of shoes. In one Press release, it's the Senior Design Adidas which provides more details. For example, the ZX 2K Boost 2.0 takes inspiration from Gamora's blades as well as the color of its armor. In addition, it is the arsenal of Rocket which served as source of inspiration to Adidas for the ZK 1K Boost, with a fast lacing.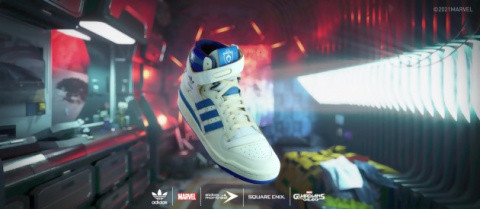 These six collector pairs are scheduled for the first half of 2023, at a price still unknown. While waiting for more information on this collab ', it is still possible to play the game Guardians of the Galaxy. It has been available since October on PC, PS4, PS5, Xbox Series, Xbox One and Nintendo Switch via the cloud.
Source: Marvel