DJI is a Chinese brand that has grown enormously very quickly. Thanks to its Mavic range, DJI has become one of the biggest world leaders in the civilian drone market, no more and no less. Released last November (around 2 months ago), the Mavic 3 is the latest addition to this prestigious range. The characteristics will be detailed a little below. For now, keep in mind that the Mavic 3 outperforms the much-loved Mavic 2 in every way.
If we had to sum it up in a few adjectives, we could say that the Mavic 3 goes really far, really fast, roars high and flies really long. All with a large lens of excellent quality and an obstacle detector that has nothing to do with what DJI offered in the past.
As you can see, the Mavic 3 is an exceptional drone. If you don't have professional use of it, it might even be a little too exceptional for you. Why "too" exceptional? Because obviously, one of the best drones on the market is expensive. The more accessible version of the Mavic 3 which contains only a few basic accessories was launched at € 2,099. This news is there to warn you that we are already seeing a promo on Amazon where the Mavic 3 has just gone to € 1,949. On such sums, the discount seems ridiculous, but it still remains 150 €!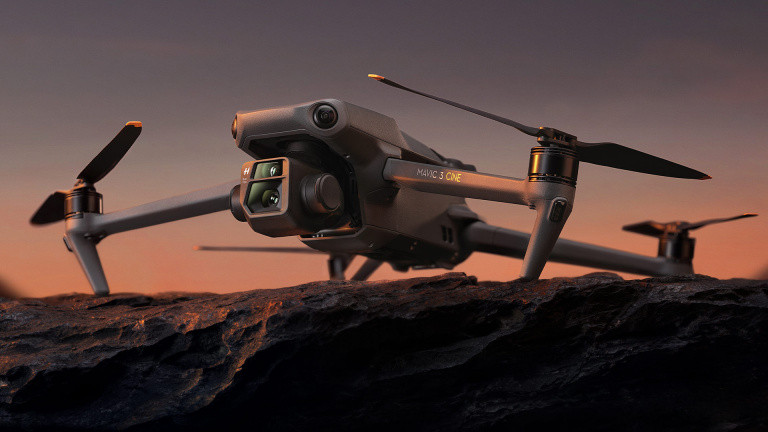 The DJI Mavic 3 is equipped with a dual camera system. The main objective is to 24 mm and opens at 84 °. The second lens offers a hybrid zoom (optical and digital) x28.
Ok, but what to expect in terms of image quality? At the top of the top, no more no less. Do you know 4K? The Mavic 3 films in 5.1K and 50 frames per second. For more fluidity, you can switch to 4K 120 frames per second whenever you want. You can imagine, with such a resolution, the files are quite large. Do not panic. With 1 TB of internal storage, you shouldn't feel limited at all.
And that's not all. In addition to these impressive video figures, DJI has also significantly improved the batteries of its drone. You can fly more than three quarters of an hour without constraint up to 15 kilometers away. For a drone of this caliber, this is very impressive.
As we mentioned earlier, one of the most remarkable advances is probably the introduction of the obstacle sensor, the famous APAS system. The drone's AI continuously calculates the data received by 6 optical sensors and 2 wide-angle sensors to locate each obstacle without the slightest effort and with the greatest fluidity.