In addition to monopolizing a large part of cinema and pop-culture news, Spider-Man: No Way Home couldn't help but land in one of the most popular games of recent years. It must be said that with the thunderous launch of Chapter 3 and the passage of the game on a whole new engine, there is something to attract more than one collaboration.
We already knew that Spider-Man was going to be one of the headliners of this chapter 3. However, we did not expect to see the landing of the version of Tom Holland, extracted from the film No Way Home, as fast ! But, as with the recent film by Denis Villeneuve, Dune, the developers have decided to formalize this cross-over so that it coincides with the launch of the film across the Atlantic, scheduled for tomorrow.
Thus, from this night, around 1 a.m. in our region, two characters from the film Spider-Man: No Way Home, which is currently breaking attendance records, are appearing in the in-game item store. We do not make you wait any longer: it is about the Spider-Man costume from the movie and that of the no less famous Michelle Jones aka "MJ", played by actress Zendaya who also makes a double hit after his arrival in the game in the guise of his character Chani in Dune.
Small additional coquetry in connection with the costume of Spider-Man (No Way Home), soon available in two versions, and the prologue of the film currently in the cinema: an emote will allow Peter Parker to remove or put on his mask, the latter not being afraid to reveal his identity within the battle royale. Finally, under this skin, there is another one hidden: that of the face of Tom Holland.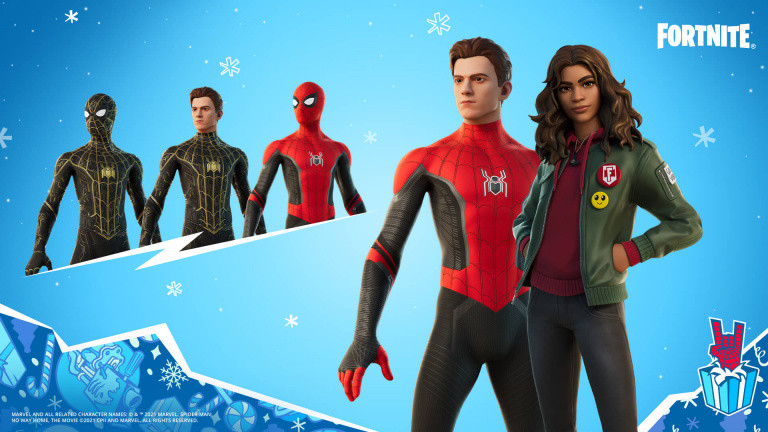 In the end, this collaboration is only part of a much larger whole, namely the Winter Festival, which will reward all players and offer a whole series of quests that will punctuate the last period of the year, and this, until January 6. All the details about this event and all the items to collect can be found in the link below!

---