Without a doubt, Horizon Forbidden West is one of the most anticipated titles in the PlayStation community: announced with great fanfare during the highly publicized reveal of the PlayStation 5, the game from Guerrilla Games is one of the figureheads of the game. Japanese manufacturer and his white monolith. And that's all legitimate: the adventure promises to be particularly splendid while the developers seem to have deepened most of the gameplay mechanics.
However (and it has been said from the beginning), the app will be a PlayStation exclusive, yes, but not a PS5 exclusive: it will actually be multiplatform and will land at the same time on PS4. For some of the owners of the new Sony machine, it is a semi-disappointment since who says several media often says limited potential, in order to adapt to different consoles. On the other hand, the desire of the Japanese giant to offer its game to the greatest number, the park of PS4 being considerable compared to that of PS5, is also quite understandable.
If we will obviously wait for the release of the game to get a concrete opinion, a very first glimpse is given to us here, via Twitter, with unpublished images of the PS4 version : one can see Aloy there traversing various environments, as desert as forest, even downright exotic. Unsurprisingly, the Dutch studio's journey is shaping up rich in detail and particularly pleasant to watch, not to mention an artistic direction that is still as efficient as possible.
Beyond the quality of the textures or the display distance, the difference will also be played on the side of the proposed graphics modes, still unknown on PS4. We imagine that the processing will not be the same on standard PS4 and PS4 Pro, with most certainly a difference in image definition and framerate which remains to be specified.
As a reminder, Horizon Forbidden West will be released for PS5 and PS4 on February 18, 2023. The appointment is made and highlighted roughly on the calendar.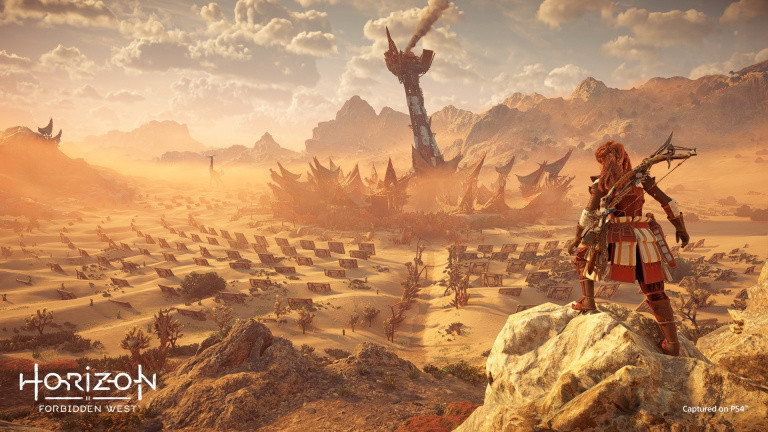 ---