The plot of Monster Hunter Rise centers on the village of Kamura and a mysterious event that nearly destroyed it 50 years ago: The Calamity. Hordes of monsters have descended on the village for no apparent reason, although they can no doubt be linked to the Magnamalo, a monster as enigmatic as he is fierce. The village of Kamura has since been fortified for fear that the events of The Calamity will repeat itself, and all its inhabitants train hard to be able to face the attacks of monsters if applicable. You play as a hunter who decides to help the villagers protect the main barrier of the village, the Fortress, while all signs point to the return of Magnamalo and La Calamité.

Before going hunting, it would be wise to check out our guides to get started in Monster Hunter Rise. There you will find information and advice for help you master the fundamental mechanics of the game and thus get off to a good start.

You can find on the pages below step-by-step guides focusing on specific aspects of the game. They will allow you to learn everything you can about the weapons of the game, and the hub gathering all the services useful for the progression of your character. You will also find the locations of the secondary camps and the conditions to unlock them, but also tips and advice to prepare for the hunt and use your knowledge to overthrow your enemies.
Prepare the hunt
The Hub
Secondary camps

Weapons Guide

Monster Hunter Rise progression is based on quests, which are themselves divided into subtypes. The village quests accompany you from the start of the adventure to teach you the basics of the game, they advance the story in tandem with the urgent quests, while the Grand Camp quests allow you to improve yourself and obtain interesting materials. You will be able to find guides to help you navigate these different types of quests below:

In Monster Hunter Rise, you will be brought to meet a lot of different monsters, and at a certain point you will also get acquainted with their advanced forms. You will find all the information necessary to overcome these creatures on the following pages:

Old Posts are the main collectibles of Monster Hunter Rise. You can find them in 5 visitable destinations of the game, and discover thanks to them the past of the inhabitants of these areas as well as information about La Calamité.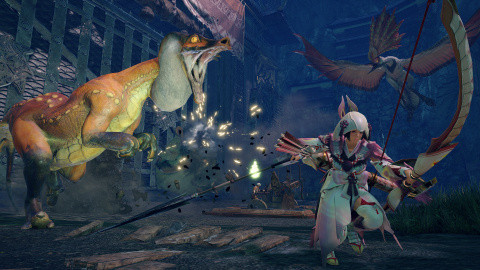 Monster Hunter Rise Walkthrough Summary