Usually knowledgeable YouTuber Brad Lynch says Meta / Facebook's next (ex-Oculus) VR headset could hit the shelves between April and June 2023.
Currently named Project Cambria, this model, which should be called Meta Quest Pro eventually, should be equipped with a Mini-LED display mounted on pancake lenses. The latter display a field of vision of 95 °, making it possible to better capture the light, and thus offer more vivid and realistic colors.
This design should have an influence on the bulk of the helmet, which should be much thinner than the Quest 2, but also less heavy. The Pro name of this model suggests that it can be used in business and in professions where the need to wear it for several hours will be required. We understand that one of the challenges is to make the Meta Quest Pro as comfortable as possible, in order to be able, in particular, to use it within the Metaverse. Its price should be much higher than that of a mainstream model.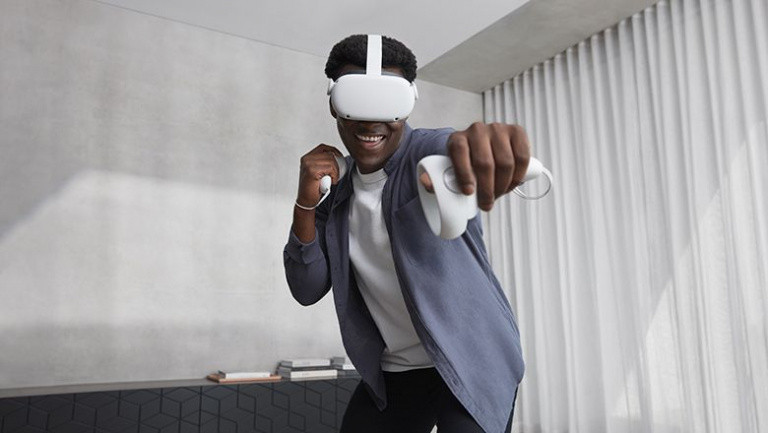 According to Brad Lynch, Meta hopes to sell 3 million Quest Pro after release. It could be formalized at the next conference held by the company for developers.
Still according to the Youtubeur, the helmet Meta Quest 3, successor to the Oculus Quest 2, should not not see the light of day before 2023. It might even come out even later. The idea, for Meta, would be to give the Meta Quest Pro time to settle, but also to push the development of the Meta Quest 3 to the maximum with cutting-edge technologies. Moreover, the developers and engineers of the firm are said to be working on an in-house designed processor, and intended to equip this new helmet.
The Meta Quest 3 could also carry a uOLED display, which would not only offer better colors and better brightness than the Quest 2, but also ensure smoothness and lightness to the new helmet. As we can count on an officialization during the Meta Connect 2023 conference, which will be held in October of next year, we have time to see new rumors arrive around this model of VR headset, which could well mark a turning point for the Metaverse to the general public.
Source: Brad Lynch (Twitter)
---