Tom Cancly's Rainbow Six: Extraction will be available on January 20 on PC, PS4, PS5, Xbox One, Xbox Series, and Stadia.
---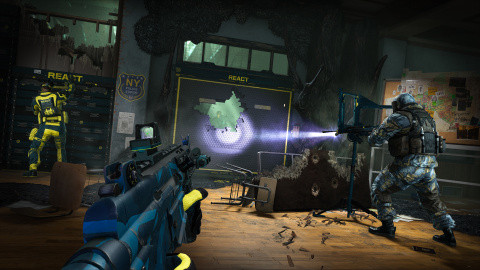 Rainbow Six: Extraction is a cooperative multiplayer FPS in PVE / JCE (Player Versus Environment). Through different missions and maps, players must team up against a supernatural threat, the Archeans, capable of infecting humans. Each mission is played in a squad of three players, each playing a different agent.
---
Rainbow Six Extraction is based on Rainbow Six Siege's engine and game systems, which explains the similarity between the two games. In reality, Extraction is largely inspired by Siege's Operation Chimera temporary event. which notably offered a co-op mode for three players who had to face infected enemies. Thus, Extraction takes this base to make a complete game apart with more advanced mechanics than those of this temporary event.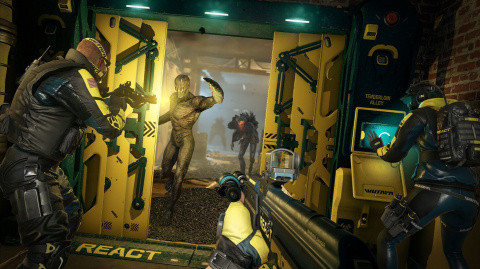 We therefore find both the strategic and tactical side of Siege gameplay mixed with the sense of urgency of zombie games like Left 4 Dead or more recently Back 4 Blood. Finally, for players who play both Rainbow Six Siege and Rainbow Six Extraction, the latter will be able to instantly unlock the full roster of 18 Extraction Agents in Rainbow Six Siege and will receive United Front Elite Cosmetic Packs in both games. .
---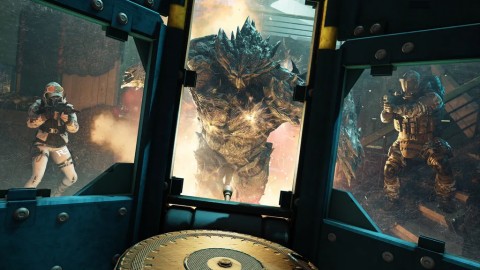 The events of Rainbow Six Extraction take place as the Chimera parasite has recently reappeared in several North American sites, deadlier than ever and spreading at an alarming rate. Following the first epidemic in New Mexico, a highly specialized and equipped organization was created: the Rainbow Exogenous Analysis & Containment Team, or REACT. Its goal: to control the evolution of the parasite and to face any possible threat.
While we know nothing about this parasite, REACT agents handpicked by Ash, leader of Team Rainbow, are the only ones able to fend off this new threat, namely mysterious creatures known as the Archeans more dangerous than ever. Thus, players will therefore have to travel to New York, San Francisco, Alaska and New Mexico during their various missions.
Tom Clancy's Rainbow Six: Extraction trailer
---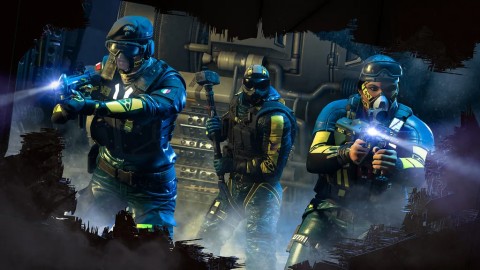 At launch, Rainbow Six Extraction will feature eighteen agents from Rainbow Six Siege. These will keep the same armor and speed stats as well as the same gadgets, although some have been tweaked slightly. Depending on the mission, it will therefore be necessary to call on the right agents who all have unique characteristics and abilities. In addition, each of them will be entitled to a personalized progression system that allows you to unlock passive bonuses, such as faster reload time, aim or the ability to self-revive if you inflict enough damage. on the ground, but also upgrades for their unique abilities.
Thus, as you level up, it will be possible to unlock new containment zones, agents, customization elements, new difficulty levels or even new technologies. In total, players will be able to find an arsenal of 65 weapons and more than twenty REACT technologies which can all be improved with accessories for example.
The list of agents unveiled so far:
---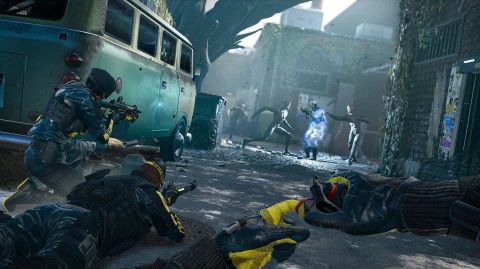 Rainbow Six Extraction has twelve levels, each divided into three architecturally specific sectors. Advertised as "about three times the size" of Siege's, these maps will be "constantly evolving" according to the publisher. To repeat the experience, players will have to complete 13 different mission objectives chosen at random at the start of the game, all accompanied by dynamic modifiers. And for more variety, know that the title will also have four levels of difficulty. The title also offers different game modes, including Maelstrom Protocol mode. The latter will offer a classified challenge, difficult, rewarding the best players in end-game content in perpetual evolution over the seasons. In the future, regular content updates are of course planned.
Regarding the creatures to face, we already know that it will be necessary to face 13 different types of aliens. For example, we find the base Archean, the Flayer who runs towards the enemy to strike him, the Trapper who immobilizes thanks to a sticky bile, the Sapper who alerts all the Archeans in the area and explodes when hit, or the Slugger who is a difficult brute to kill. During the mission, your squad may need to travel to a place called the Singularity where the most dangerous parasites in the game are found: the Proteans. These are Archeans who have adopted the form of REACT agents and are able to imitate their behavior. Finally, know that the Archeans are also boosted if they are on a surface covered with emergence, a kind of material that parasite nests deploy on the ground to slow you down.
Tom Clancy's Rainbow Six: Extraction trailer
---
As for the concrete unfolding of a mission in Rainbow Six: Extraction, players progress from safe area to safe area. Each path that separates them contains an optional objective that gives big rewards for success. These objectives are chosen randomly at the start of the part in order to be able to regularly renew the experience. Players will therefore have to hack terminals scattered in three different places on the map, plant beacons in infected nests, save a teammate stuck in a kind of organic tree, etc.
As you progress, you will have the choice to extract your squad at specific times and recover the rewards accumulated so far, or continue to gain more at the risk of losing everything. But if you fail to extract an agent, it will be Missing in Action, and unusable in-game until you complete a rescue mission. After a while your money will be recovered even if you did not save it, but the latter may have lost all its progress.
Unlike other games of the genre where you are constantly on the move or attacked by zombies, Extraction respects Rainbow Six DNA by inviting players to take a tactical approach. An approach all the more encouraged when we understand that it only takes two blows to be put on the ground. Thus, it will be possible to destroy the walls as in Siege to escape his pursuers or to strengthen them to slow down the progress of enemies in the event of an objective capture for example.
---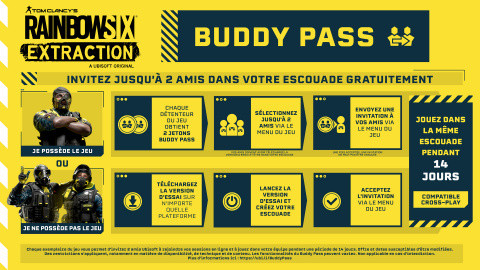 Thanks to the Buddy Pass, Rainbow Six Extraction allows any Full Edition owner to give two of their friends a 14-day squad trial of the game with them, including on other platforms. Moreover, remember that the title offers full cross-play, cross-save and cross-progression features on all platforms. After these two weeks, the invited player will be able to keep their progress if they buy the game.
What's more, the game will also benefit from a trial version which gives any player the opportunity to try the game for free for 2 hours. The latter can also be used to join the squad of a friend who invited you via a Buddy Pass token. Finally, in terms of the content of this free trial, it provides access to all of the game's content with the exception of post-launch additions, the Maelstrom Protocol mode and the game store.
Tom Clancy's Rainbow Six: Extraction trailer