The Windgoo M12 has a 250 Watt electric motor for a maximum speed of 20 km / h. With the 8.5 inch tires, you will be able to tackle slopes of up to 15 °. You shouldn't live in the Vosges, of course, but on relatively flat ground you shouldn't be too bad.
The maximum weight supported is 120 kg, so it is not ideal for doing big races, but to go to work it is quite sufficient. You just start to move forward like on a classic scooter, then when you have reached the recommended speed of 5km / h, let's go! You can switch on the engine and reach 20 km / h effortlessly.
The 6.0 Ah battery will allow you to cover a maximum distance of 15km. It charges in about 3 hours. In this case, you can fold it at home or in the office so that it takes up as little space as possible.
Aluminum alloy design, you have two shock absorbers, one at the front and one at the rear, to reduce bumps during the ride. A system of disc brake at the rear allows you to stop efficiently, moreover with the eABS. The brake is on the left handle, while the accelerator is on the right. A small headlamp is there to see more clearly when evening approaches.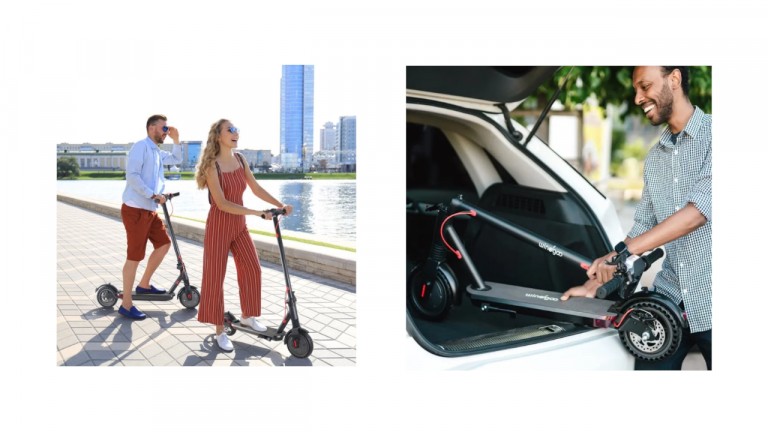 We like it control panel up front to manage speed, mileage and battery level. Like in a car, after all! A small wand is present to support the weight of the scooter when you leave it in a standing position. The charging port is located right next to it
This great scooter is at the best price during the winter sales. Do not hesitate to take the plunge on Cdiscount, your fuel savings will be good for the planet and your wallet!
---