This 10.5-inch compact tablet sports a screen 2560 x 1600 Super AMOLED, actually very comfortable for watching videos. The colors are vibrant and you can further improve the saturation thanks to the "super adaptive" option in the settings. The 16:10 aspect ratio is a real plus when it comes to screen size.
The product on offer has 4 GB of RAM and 64 GB of storage, which is not enough, but you can increase the storage space thanks to the micro SDXC slot up to 512 GB.
Connectivity level, you can connect a USB-C cable to the tablet, it also supports the Pogo pin. It also has a fingerprint reader if you want to unlock your device securely. Add to this the possibility of using the "FaceScanner" and you get a tablet at the level of the larger ones.
Samsung's Galaxy Tab S5e runs on Android 9 with an 8-core Qualcomm Snapdragon 670 clocked at 2 GHz. This allows you to display several apps simultaneously in "Popview" mode, something that is also found in iOS by the way. This makes this Android tablet a surprisingly productive tool for its size. The resolution of the rear sensor is 13 MP for 8 MP at the level of the front sensor.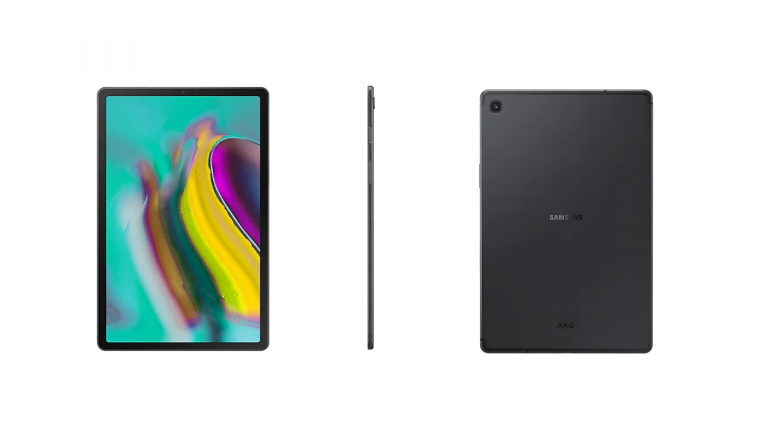 The Galaxy Tab s5e has a slim body of 0.55cm, and yet it gives off an impression of solidity in use. Autonomy is good with a 7040 mAh battery, or 14.5 hours of video playback, and the tablet also offers fast charging. Audio level, the tablet supports Dolby Atmos and has AKG speakers (moreover the label on the back mentions it) located just next to the USB-C port.
In short, for half the price of the iPad, Cdiscount offers you a fast and functional tablet, which can run in multitasking, with a superb AMOLED screen and just perfect color rendering. This is really an opportunity to take advantage of this price drop.
---