This is the little Millennium Falcon, and not the big one (which costs € 800). Initially displayed at 159 € on Amazon, the set sees its price drop by 14% to reach 137 € if we opt for the reduced packaging. Fans of beautiful boxes who absolutely want the standard packaging will have to pay € 139.
Although this is the reduced version, the set still includes 1351 parts that will have to be assembled, in order to obtain the replica of the famous Corellien freighter YT-1300F modified. In total, the replica made of bricks and no pitcher displays 2.29Kg on the scale, while we take advantage of a crew made up of Finn, Chewbacca, Lando Calrissian, Boolio, as well as the droids C-3PO, R2-D2 and D-0.
The exterior features two rotating blaster turrets (the lower one can accommodate two gunners), 2 spring loaded rifles, a lowering access ramp and an opening cockpit to accommodate a pilot and co-pilot.
The interior is not to be outdone with a loading space and 2 containers, a navigation computer, the famous sofa with its Dejarik holo game board, a kitchen, a berth, the famous hyperdrive system as well as the tools. necessary for its repair, and finally the secret compartment where Han stashes his contraband.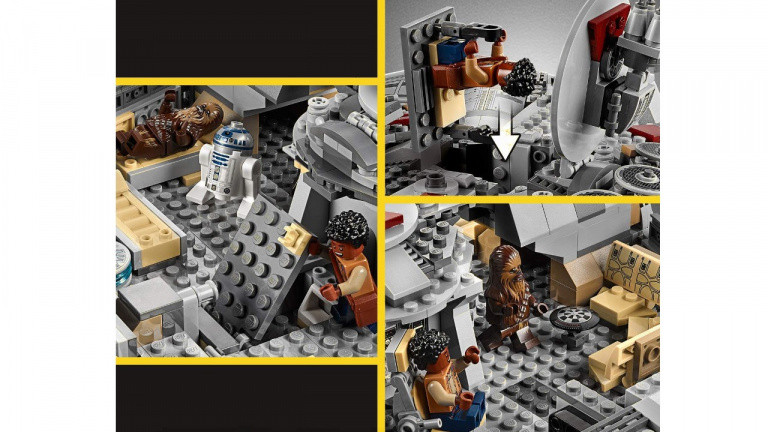 In total, this replica of the most famous Star Wars spaceship will occupy a pretty shelf with its generous dimensions, with 14cm high, 44cm long and 32cm wide.
---