Two Point Hospital is a management and simulation game similar to Theme Hospital. In this game developed by Two Point Studios, you have to design a floor to ceiling hospital through lots of customization options. You have to manage the employees and welcome patients with diseases that are all more wacky than the others. You will need to heal them and ensure that all their needs are met, just like those of your employees.. You'll have the option to grow your hospital, or even collaborate with your friends – or compete with them if that's what you prefer. If you have subscribed to the Prime Gaming service, you can start your own hospital right now.

You can find on the following pages all our guides to get started in Two Point Hospital. Familiarize yourself with the basics, interface, and controls, and learn how manage your hospital well thanks to our tips and advice.
The basics
How to manage your hospital well

Find below all our knowledge on the various mechanics of Two Point Hospital, and find out about mission sites, available rooms and their decorative elements, as well as scientific research and the diseases that you will encounter :
Hospital amenities
Everything about the 15 mission sites
Personnel management
Diseases and scientific research

Two Point Hospital benefits from several DLCs which bring their share of novelties. On these pages, find the details of new rooms with their new personalization elements, from many new diseases to be treated, and 6 new hospitals accompanied by their missions.
DLC additions
The six new hospitals in the DLC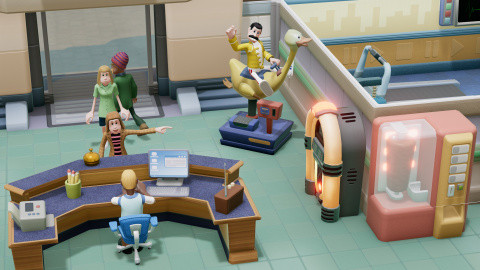 Two Point Hospital Walkthrough Summary